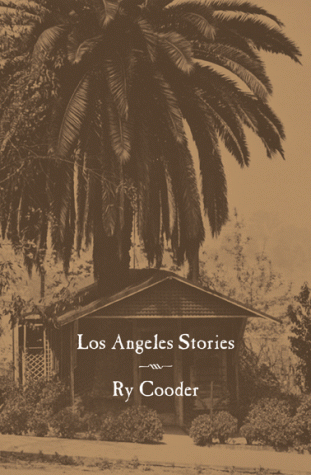 City Lights, 232 pages, paperback, $15.95
I remember hearing Ry Cooder's 2005 album Chavez Ravine after my old man burned me a copy of it and said I should check it out, especially after moving to southern California. The concept album tells the story of the Chicano community located just outside of downtown Los Angeles and the ultimate displacement of the residents of Chavez Ravine in order to develop new housing. The housing development plans fell through and the land was given to Walter O'Malley, the owner of the Brooklyn Dodgers, as part of an agreement to bring the Dodgers to LA. That forgotten history was brought to life with Cooder's concept album — full of Chicano flavor built around Cooder's guitar work, and Americana roots folk storytelling featuring many larger-than-life characters who were actually involved in the situation at Chavez Ravine.
In many ways, Los Angeles Stories is an extension of the story of Chavez Ravine and the people who inhabited the community. At the very least, it serves as an annex to the Chavez Ravine incident. This is Cooder's first written work, a collection of short stories he penned over time, originally created for his own enjoyment. After a discussion with Bob Dylan regarding an upcoming tour Ry was heading out on, Cooder was convinced by Dylan to have a small run of these stories printed up to sell at each show. The tour fell through and somehow a copy of these stories — which were thrown together in a hurry — ended up in the hands of City Lights Books in San Francisco.
"I got an email saying, 'We'd like to put out an edition of this,' and I said that's an honor for me – that's terrific! Really? You sure?" said Cooder in a recent interview conducted on Los Angeles radio station KPCC 89.3 FM. "I'm not a novelist or writer in that sense. It's just me fooling around, like with music in the same way. Like writing a song."
The words that occupy the 232 pages of this book bring to life a time long gone. Los Angeles today is a busy and crowded metropolitan mecca, a true concrete jungle where millions of people work, live, and play among the smog-filled air and the bumper-to-bumper traffic. Los Angeles Stories gives us eight short stories set between the 1940s and late 1950s. During this time, LA was looked upon as a place for opportunity for those outside of the West Coast — A destination for folks back east. If it was a job working for Douglas Aircraft (a booming business with the progression of aviation technology) or getting into the music business you sought, LA was the place to be.
On the flip-side, Los Angeles also had a seedy side (and still does, if you care to look for it). Shady characters including schemers, lowlifes, junkies, and con-artists live among the dreamers, especially during the time period featured in Los Angeles Stories.
While some of the stories focus on those who end up in LA, Cooder's focus in this book is mainly about those who have called LA home for most of their lives. The way Cooder describes the neighborhoods in LA — the homes and the working class — really paints a picture that doesn't just give you an idea of what it was like; rather, he brings these images to life, especially if you live in or visit LA today. And if anyone can give accurate descriptions of what it was like in those days in Los Angeles, Cooder can since he grew up in these neighborhoods. I found myself saying "Been there!" many times while reading this book, as places like Pershing Square and Philippe's still stand to this day.
I believe it was Stephen King who once said something like, "I don't write about extraordinary people, I write about ordinary people in extraordinary situations." That's the formula Ry Cooder has used in this book. Most of the stories feature ordinary people — including quite a few musicians — who find themselves in very peculiar situations.
One line we keep hearing throughout this book is police officers telling characters, "Don't leave town," as one character after another gets caught up in some incriminating situations. The stories are full of suspense and read a lot like detective novels and pulp magazines (fitting for the era these stories take place). Another amusing thing about the stories is Cooder's ability to occasionally cross characters from one story into another, giving the reader a feeling that while LA is a big place, it can also be a place where people get around. The cover also sets the stage for the stories found in this book. It features a classic California bungalow with a giant palm tree growing right through the roof, colored in an old film grain color, preparing the reader for a ride back in time.
Los Angeles Stories really captures the feel of LA in the '40s and '50s, or at least what I assume it was like. The stories, with a cast of larger than life characters and interesting plot twists, left me turning each page with wonder and interest in what was going to happen next. In the span of 232 pages, I feel like I've been to a museum or maybe jumped back in time to a place where I had no ability to be or exist in.
Ry Cooder has earned a reputation of being a wonderful musician with the ability to tell stories with his music. Now, Cooder has taken his storytelling to written form and will likely impress the reading community with his brand of true life-inspired tales of a time long gone. I hope this first time effort by Mr. Cooder won't be his last. A truly excellent read.