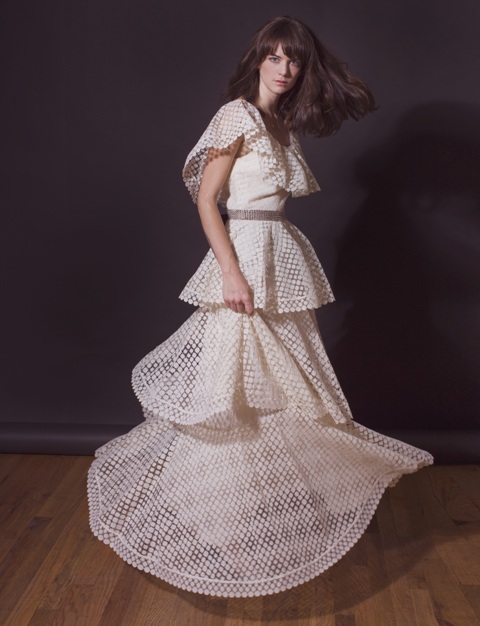 Few people embody the "American Dream" more fully than emerging singer-songwriter Nikki Lane. Not the idealistic kind, where a farmer "strikes oil on a hunting trip and moves to Beverly Hills," but the kind that requires desire and courage to just go for it, and hope for the best.
From dropping out of high school and moving to California for "no other reason than 'just because,'" to having a corporate job in New York, it seems Lane's dream is finally being realized. With her first LP Walk Of Shame released on IAMSOUND Records, Lane is proving her smoky voice deserves to be heard above the mass choir of singer-songwriter's coming out of Nashville.
She was kind enough to chat with Verbicide about her compelling lifestyle, taking the "walk of shame," and some guy named Johnny Corndawg.
You recently released Walk Of Shame — how was the recording and release for you? Is it kind of an accumulation of your life so far?
I feel like, in essence, this record is a representation of a coming-of-age. It was the first time I made an album that had any kind of money behind it. You know, getting to work in a real studio and work with a couple different producers. I really had to think about what I wanted to do and approach the situation like, "I only get one [shot]." It just became more about the past couple years because it's hard to, when thinking of what's relevant, step outside of that timeframe you're in.
Your unique voice has a lot of character to it. Are there any experiences in your life that have shaped the way you sing?
For me, what finalized the way I was phrasing and singing was just hearing it back. When I was just recording on a four-track at my house, people would say that I sounded like CocoRosie or Daniel Jopston, and that was like crazy to me! No way! But then I started listening, and I think what they heard at that time was some kind of frailty or insecurity, like a crack in my voice because I was unsure of how it was going to sound.
But I think everyone can sing a couple different ways. I think you kind of just keep listening and honing in on the little things that you like, and just doing it…trying things by accident and going, "Oh that really kind of works," you know what I mean? People will say, "I hear a vulnerability in your voice," and I try to remember that.
That vulnerability shows on tracks like "Come Away Joe." It's a heartbreaking song, not because of the lyrics but more [because of] the way you sing it, almost like it's an invitation to really hear what's underneath.
Yeah, the story line of that song in particular doesn't really tell you what's happening. I know what I was thinking. The song's actually about my dad, and just watching him spend the past 40 years in this [small-town] Southern society, the same one that I worked hard to leave. He's pretty wild, and watching him in such a limited atmosphere, where being a wild, outspoken, misbehaving artist never really worked to his favor. So that song for me was like, "Come over here to where I've come!"
People that I grew up with thought that it was an insane idea when I moved to California. But once I got there I was like, "Oh, they just don't know what it's like over here!" So there was a story line in me, and [in "Come Away Joe"] it just didn't come out word for word.
Kind of the opposite of that track is the song "Walk Of Shame," which has an obvious meaning, and it's funny the way you honestly address yourself. How did the song come about? Is there a reason why you chose Walk Of Shame as the title for the entire record?
I didn't mean for it to actually happen, but the first day I went to co-write for the record (it was one of my first co-writing appointments ever with a stranger), and he said, "What are we gonna write?" and I said, "We're gonna write a song called 'Walk Of Shame' and I'm going to [name] my record after that!" He kind of laughed, and I didn't know that it would actually happen. After the day we wrote it, I listened to it for like a week and then kinda squashed it. It wasn't even on my track listing to make the record. But I thought it was kinda tongue-in-cheek.
I joked around [with what] I would name the record, you know, all kind of cocky, like, "Now You Know My Name" or something.
Haha! "Ladies and Gentlemen, I've Arrived."
Yeah, you know, "I'm Here!" But when I was young I used to go record shopping and buy things [based on] the cover, and I'd come home and like one out of 10 were actually worth listening to. But I wanted something that made people look at the cover and go, "What?" And I just think [Walk Of Shame] is fitting.
I was so bummed, too, because right before the record came out, that movie Bridesmaids came out, and Kristen Wigg does that walk of shame where she gets caught on the gate of the garage, and I was like, "Noooo!" One month earlier and I could've tried to get my song right there.
That would have been perfect!
Yeah, at live shows when I sing the line about waking up and leaving, women just go "Wooo!" That stuff isn't crazy to people, it's just funny.
Aside from the music, you're also really into fashion — or, at least, some pretty underground, unknown magazines like Vogue seem to think so. [laughter] So was music or fashion your first love?
I have to keep saying this, because it's going to keep showing up everywhere. I only have one joke. If I'm on an island and I can only take one thing with me, music is going to be more practical than dresses. So music wins! But I'm very gluttonous in the sense that I'm never going to have to choose, and that's why I work really hard. I just said, "I'm going to do both."
So besides the band, you also own your own vintage shop in Nashville and sell your clothes at the shows?
Yeah, right now we basically take a thrift store on the road with us. The first couple times I was a bit nervous because I was like, "Are people going to think I'm a total loser?" But then people actually got into it! When I go to a show and someone buys something for 40 bucks, they're just making my day a little cooler. [laughter] They are! They're just giving me like… pizza money, and maybe if enough people buy something, than a good hotel room!
How has the touring been going then?
It's been good! I'm kinda playing catch-up because I made the record, then it came out, but we didn't have a booking agent until like a month ago! So we'll be touring all next year, but as of late I've just been doing one-offs, like Seattle or LA. [Ed. note: West coasters, catch Nikki on the last leg of her tour this week. Check her Facebook page for dates!]
I kinda feel like a nerd because I know a lot of guys, like Johnny Corndog. His record just came out too, but he's been touring nonstop for the past two years, and I've just been painting my toenails and selling boots. So I guess I have to play catch-up now so I don't look like a joker.
So where will the tour be going?
I think next year we're probably going to do the whole country, and then the UK, and maybe Australia. There are 50 states and I'm going to try to make friends with all of them.
Last question: if you could sum up your success in a sentence, what would it be?
I don't remember anything about high-school. High school sucked for me — I dropped out. But I remember the women's basketball coach came in one day to my social studies class, and he wrote on the board, "COMPLACENCY KILLS." He said, "Anytime you settle, that's just it. That's as far as you're going to get." And that just really stuck with me.