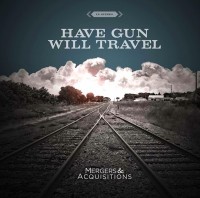 Cooking up their own brand of alternative folk, Have Gun Will Travel have released their third album Mergers & Acquisitions. This collection of 12 folk-driven songs break off into many directions including traditional folk, blues, and  roots rock and roll, featuring the stellar vocals of Matt Burke.
On first listen, I thought this was a new side project of Tom Petty (yes, the Tom Petty), as Burke's vocals are eerily similar to Petty's singing voice (both outfits are out of Florida, Petty from Gainesville and Burke from Bradenton), with a hint of Bob Dylan thrown in. A majority of the songs on Mergers & Acquisitions tell stories; songs about life on the road, traveling, and days of old.
With Burke's memorable vocals and the music provided by the backing band — especially with the use of steel guitar provided by Scott Anderson — the album relies on the traditional folk style, but with toe-tapping tunes like "Song of Seven Sisters," the album cruises along like an Americana road trip through the heart of this nation. This is an all around enjoyable album full of infectiously catchy songs and moving stories beautifully sung by Burke.
(Suburban Home Records, PO Box 40757, Denver, CO 80204)