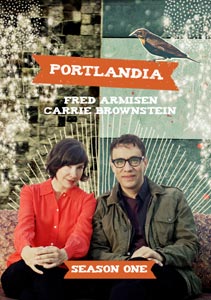 The first season of IFC' hit show "Portlandia," created by and starring Fred Armisen ("SNL") and musician/actress Carrie Brownstein (Wild Flag, Sleater-Kinney), is coming to DVD.
The series of comedy shorts is set in a fictional rendering of Portland, Oregon, and features recurring characters including an organic farmer/cult leader, members of an adult hide and seek league, owners of a feminist book store, a militant bike messenger, and an artsy couple who attach cut-outs of birds to everything. The first season features cameos from the real mayor of Portland (Sam Adams), Selma Blair, Steve Buscemi, Heather Graham, Aimee Mann, Sarah McLachlan, Aubrey Plaza, Gus Van Sant, and Jason Sudeikis.
The DVD will be released on December 6th, 2011 and will retail for $19.95 (Blu-Ray/DVD combo sells for $26.95). Both sets include all six episodes of the first season with bonus features including a blooper reel, extended scenes, deleted scenes, Fred Armisen's speech to Oregon Episcopal School graduates, original ThunderAnt videos, and commentary with Fred Armisen, Carrie Brownstien and director Jonathan Krisel over six episodes.
There's also a preview of what's in store for the second season, which premieres on IFC on Friday, January 6th, 2012 at 10:00 PM.