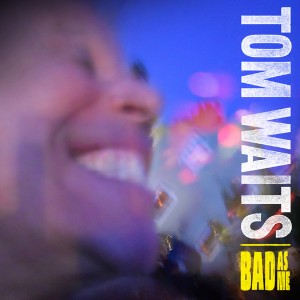 On Tom Waits' latest release, Bad As Me, the many eras of his storied career seem to collide into one another and explode with overwhelming ferocity.  The album marks Waits' first studio recording of all new material since 2004's Real Gone, his highest charting album to date.  Helping to bring this album to life are wife and longtime co-writer/producer Kathleen Brennan and son Casey Waits (drums), along with a star-studded cast of backing musicians, including Keith Richards, Les Claypool, Flea, Marcus Shelby, and dozens of others.
The 13 songs on Bad As Me (16 on the deluxe version) take the listener on a sonic roller coaster from the old-timey stomp of the opener "Chicago," to tracks like "Raised Right Men" and "New Year's Eve," which recall the sound of Waits' earliest albums — but with the distinctive gravel-mouthed growl that he first debuted on 1983's Swordfishtrombones.
A pair of crooning love songs, "Back In The Crowd" and "Kiss Me," capture the best of Waits' blues leanings.  The track "Kiss Me" is of particular note.  With minimalist piano and guitar, both by Waits, and smooth subtle bass lines provided by Marcus Shelby, Waits wails, moans, and, at one point, nearly whispers the lyrics.
Speaking of Lyrics, Waits is at his poetic best throughout this album.  On the tracks "Last Leaf" and "Satisfied" (which makes reference to The Rolling Stones song "(I Can't Get No) Satisfaction,") Waits wrestles a bit with the subject of mortality:  "I said I will have satisfaction/I will be satisfied/Before I'm gone," Waits sings in the chorus.  Also of note on both these songs is guitar work by Stones guitarist Keith Richards.
On the stomping and marching "Hell Broke Luce," Waits tackles the wars in the Middle East with lyrics from the perspectives of soldiers on the battlefield.  It is not explicitly an anti-war song, though that impression is given with lines like, "How is it that the only ones responsible for making this mess/Got their sorry asses stapled to a goddamn desk?"  No Waits album would be complete without a traveling song, and this album provides two.  The opening track "Chicago" gives us a hopeful story of picking up roots and moving to a new city:  "The seeds are planted here/But they won't grow/We won't have to say goodbye/If we all go/Maybe things will be better in Chicago?" Waits sings.
In the sad lament of "Face To The Highway," Waits sings, "The window wants a curtain/The plow wants the land/Diamond ring wants to/Fit upon the finger/Of her hand/I turned my face to the highway/And I turned my back on you."  The bitter emotions conveyed in the lyrics are audible in Waits' voice as he sings, and you can feel them weigh on you as you listen.  This is not the only song where the tone and delivery of his vocals embodies the emotional weight of his words.
Waits' vocals are at perhaps their most dynamic ever on this album.  He demonstrates a fluid falsetto on "Talking At The Same Time," howls and wails on the album's title track, and spits and growls on tracks like "Satisfied" and "Raised Right Men."  Where other singers at this point in their career might have lost their vocal prowess, there is power and energy in Waits' voice throughout this album to rival any other point in his career.  Waits has a singular gift for giving meaning to his lyrics beyond the words themselves with their manner of delivery, and that ability shines on every track.
Three bonus tracks — "She Stole The Blush," "Tell Me," and "After You Die" — appear on the deluxe edition of the album.  These tracks are more than merely afterthoughts or discarded extras not good enough for the album.  All three are top quality, and cutting them would make the album feel incomplete.  "After You Die" is a particularly poignant track, acting as a denouement to the rough and tumble ride of the album, and one that should not be missed.
On Bad As Me, Waits delivers not only one of the strongest vocal performances of his career, but crafts an album that reflects his full range as an artist.  With a crew of strong backing musicians allowing him to follow his creative calling wherever it could lead, the result is one of Waits' finest albums — a soon-to-be modern classic.
(Anti, 2798 Sunset Blvd., Los Angeles, CA 90026)