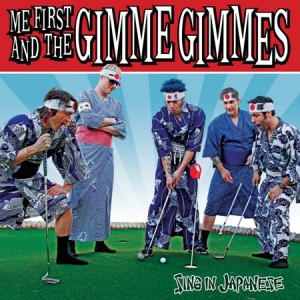 Put together chunky punk rock guitars and classic harmonies, and what do you get? An album by Me First and the Gimme Gimmes, a California-based supergroup from artists in the Fat Wreck Chords family.
Following the footsteps of bands like The Who and Pink Floyd — both famous for the concept or theme album — Me First and the Gimme Gimmes unleash their second theme-based EP in the year. Their first effort, Go Down Under, helped the band promote a short tour in Australia by covering popular songs by Australian-based artists.  Sing in Japanese follows in the previous effort's footsteps.
Sing in Japanese goes back to the Gimme Gimmes routine of fun, upbeat songs that you want to start singing along to. The tracks "Hero" and "Kekkon Shiyoyo" (the latter track shares the opening rift with the famous Social Distortion song "Story of my Life") really highlights vocalist Spike Slawson's energy. Later in the album, the Gimme Gimmes' vocal harmonies really shine in the track "C-C-C" where Joey Cape and Fat Mike sing along with Slawson giving the song that special touch that is common with the group.
From the beginning to end, Sing in Japanese is an energetic and upbeat collection of songs, like past Gimme Gimmes albums.  It's going to be awhile for me to get this album out of my rotation, so I'd better start learning some Japanese.
(Fat Wreck Chords, PO Box 19360, San Francisco, CA 94119)