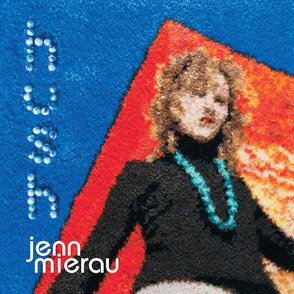 Someone — perhaps not a fan of the genre — once said that the world doesn't need another singer-songwriter. Yet the absurdity of such a statement is constantly challenged with excellent music from all corners of the globe in this vein. In this case, Jenn Mierau is the artist unleashing her  sweetly seductive work onto the listening world.
The cover of Hush is a replica of a piece of work by Mierau herself, a rug of 14,400 stitches that makes a self-portrait, enveloping the contents. And what contents they are, with the DIY  aesthetic of her artistry producing an album as personal as it is intimate. Producing the work herself and taking influence from electronica, acoustic, and found-sound recordings, she weaves a web of delicate imagery and musings on life. The work is cushioned in programmed beats, pensive piano tones, and choruses that suggest the long gestation of the work was all perfectly timed to produce a record worthy of many more ears than it will likely reach.
Opening with the creep-up-behind-you loveliness of "Lovesong" (one of two equally excellent versions on the record), the chorus of the song and atmospheric programming plant in your mind with ease. In fact, I had a sense of déjà vu upon hearing the song that made me appreciate it all the more. This is a feeling that occurs all throughout the record, and even the alternate versions of the aforementioned "Lovesong" and title track are excellent — and different enough — to be more than filler material.
It's worth noting that its brevity is one of the key aspects responsible for the ice-cool vibe that flows throughout Hush. Specifically, "Told You" and the vaguely sinister piece "Hush" give you goose bumps on the first listen, and even the more traditionally-composed pieces such as "A Little Blue" or "Shine" are diamonds in an already bejewelled set. It looks like the world has proved its need for another singer-songwriter once again, and may many ears appreciate this truly vital record.
(Galactique Records, no address provided)