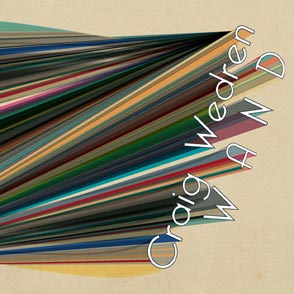 The music scene is full of unique artists, and it's no surprise when you consider how much they have to be influenced by. One artist who seems to evoke a myriad of influences in his work is Craig Wedren, former member of the influential band Shudder To Think. With a back catalogue that includes hardcore, film scores, and indie dance rock you really could expect anything from this disc.
The first thing I noticed when I received Wand was how many tracks it contained.  At 16 tracks in length, the more skeptical amongst you may ask if that means "filler material included."
It is, in fact, the opposite case. When you consider that most of the tracks are just over two minutes long (and only two of them exceed four minutes) it's a clear throwback to the days of short-but-packed hardcore albums. And with titles seemingly designed to pull the listener in — such as the intriguing "Bloodwarmer," the possibly cruel "Make Me Hurt You," or the beautiful sounding "Lady Ghost" — it is an intriguing listen. The tracks range from acoustically performed sweeps of emotion, to modern rock-tinged anthems, to bass-imbued thrash workouts, and considering the melange it makes perfect sense.
A look at the video clip for "Are We" — with its chorus of "We are all one and same/we are all born insane," and build up of horns, beats, and overlays — is enough to convince of its beauty. Its message seems to be so simple, yet we are open to interpret it how we please. The dance-influenced "Don't Tell" is amongst the shortest pieces and is perfectly pitched in its simplicity. "Heaven Sent" is one of the aforementioned sweeps of emotion that is never short of listenable, avoiding the over-sentimental cliché of songs that such a title bestow. Of course, the riff workout has to be present, and "Rectory Girl" takes that position with its muscular swagger and excellent guitar work.
But to over-discuss the variety of styles would be to miss the point that Wand is well worth a listen, and proof that genre-jumping can be fun — not just for the restless creative mind, but for the open-minded listener as well. And settling down with like-minded individuals to savor Wand is highly recommended.
(Nerveland Recordings, no address provided)