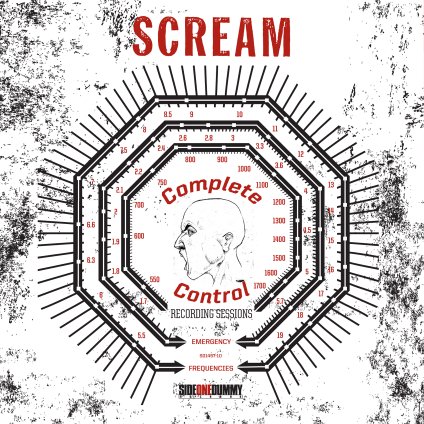 When I was filling my diapers back in 1981, the Stahl brothers were forming one of the foundational hardcore punk bands to come out of the northern Virginia/Washington, DC area. Their debut album, Still Screaming, became the first full-length albums released on Ian MacKaye's Dischord Records. It was later in the decade that a 17-year old drummer by the name of Dave Grohl lied his way into vacant drumming spot in the band (he said he was 20) and would go on to play drums on the band's last two albums in the late '80s and early '90s.
Now, 18 years after their last album, Fumble, Scream's original lineup have reunited and released the EP Complete Control Sessions. While Mr. Foo Fighter himself Dave Grohl is not featured on this album, he did offer up his recording studio for the album's creation.
The seven-song EP continues the band's artistic progression, from their hardcore beginnings, to the post-hardcore sounds of their last album. "Stopwatch" opens the album with a catchy feel and strong back-beat and leads into another straightforward cut featuring group vocals called "Get Free."
"Jammin at 606" ("606" referring to the name of Grohl's recording studio) is a straight throw-back to the roots of this band. It's fast, loud, and raw. "The Year Bald Headed Singers Were In," oddly enough, has a Nomeansno feel (as Nomeansno's Rob Wright is known to dawn a bald head here and there), although I'm pretty sure Rob didn't inspire the lyrics to the song.
For only reuniting a few years ago, they sound quite tight, and Peter Stahl's voice is still in good shape. Not bad for taking an 18-year break.
(Side One Dummy Records, 1944 N. Cahuenga Blvd., Los Angeles, CA 90068)