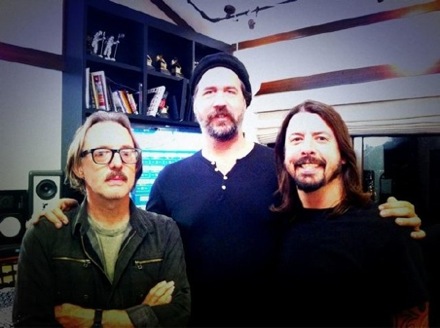 According to Reuters, a Q&A with surviving members of Nirvana — including Krist Novoselic, Dave Grohl, and Nevermind producer Butch Vig — will be hosted by Jon Stewart on "SiriusXM's Town Hall with Nirvana." The event will take place on Saturday, September 24th at 8 p.m. EST, which is the 20th anniversary of the release of Nevermind. The two-hour Q&A, to be broadcast on channel 34 ("Lithium"), will be held in front of a New York studio audience.
Via Reuters: "[Stewart] will grill Nirvana drummer Grohl and bassist Novoselic, as well as Nevermind producer Vig, about recording the landmark album with frontman Kurt Cobain…Attendees and SiriusXM subscribers will also be able to to ask the panelists questions…
"Along with the 'Town Hall' event, the channel will air music from the band's entire catalog and recordings of celebrities offering their thoughts about the band's legacy."
Additionally, from September 23rd to September 28th, SiriusXM will run a Nirvana-only channel entitled "Nevermind Radio."
Below is a video of Jon Stewart interviewing Dave Grohl on "The Daily Show" in 2001.