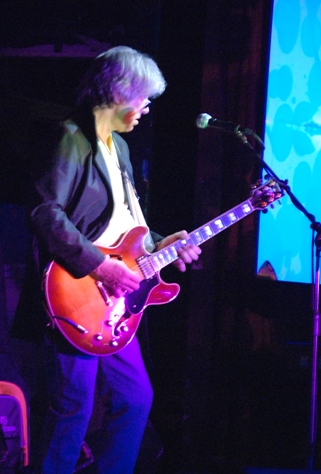 To some, progressive rock is like a disease that no one wants to catch. The mere mention of prog rock brings to mind bands such as Rush and Yes, bands who are known for their nearly exclusively male fan base.
Sausage fest jokes aside, prog rock is not music made for picking up the ladies, but rather music for anyone who really appreciates music and musicianship. Serious music fans only, right guys? Virtuosity fills every corner of the scene with some of the most amazing bands like Hawkwind, Gentle Giant, King Crimson and Nektar.
Seeing Nektar alone would have been a dream come true, but as part of the Space Rock Invasion Tour featuring BrainTicket and Huw Lloyd-Langton  was extra special.
The August 18th performance at Manhattan's B.B. King Blues Club and Grill opened with Huw Lloyd-Langton performing acoustic, singer-songwriter style. He played mostly solo material, but entered into Hawkwind and L.G.G. territory for the fans in the room. Some say that acoustic performance is the true measure of a musician, and to see Huw's fingers dancing like flames across his guitar was nothing short of amazing.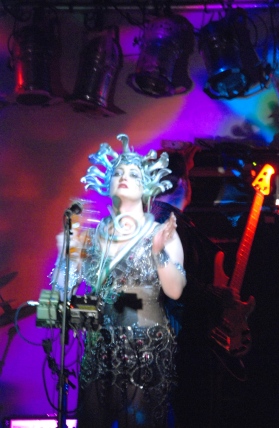 The second act, the Kraut-rock octet BrainTicket, had never toured the United States, despite forming in 1968. Until this show, I had never heard of them, although judging by the crowd's reaction as they entered the stage, I was certainly in the minority. Singer Abby Travis appeared dressed in a sequined Medusa costume, immediately making it clear that BrainTicket was going to take us on a wild ride. And the band delivered —  unfortunately, though, they did not play their biggest hit (the self-titled "BrainTicket") due to its extreme length. According to the man sitting next to me — dressed in a vintage Nektar t-shirt — the song takes up most of their 1971 debut LP, Cottonwoodhill.
The headlining band Nektar took the stage after BrainTicket. Their mindful mastery of their craft infused each note as they radiated the energy and the edge of their youth. Their set list was a "best of," culled from their 14 classic albums. Their trademark visual show added to the vibe of their trippy, transcending sound. When they played "Remember the Future," it was just as clear as when I drop the needle on their classic album every Saturday morning. B.B. King's was the right venue too, as the sound was perfect for the room. Nektar are old pros, having performed since the '60s, and performing live, they still capture the spirit of their heyday.  This is music for fans of great music.