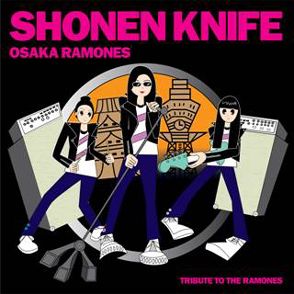 Covering a song is a tricky thing. Creating an entire full-length album of Ramones cover songs seems damn near impossible, but the Japanese all-girl pop-punk group Shonen Knife has done it and done it well. Osaka Ramones comes in celebration of the band's 30th year of churning out great music, and they've compiled a great list of fan favorites and lesser-known tracks.
The album contains many of the Ramones seminal tracks including "Blitzkrieg Bop," "Rockaway Beach," and "Sheena Is A Punk Rocker." The ladies retain the essence of the originals with evident passion and enthusiasm but have reshaped their sound. They bring the energy, but in a sunnier, more polished way. Joey Ramone's gritty vocals have been replaced by Naoko Yamano's smooth pop-inspired musings, and the pounding percussion has taken a backseat to peppier melodies.
"Pinhead" has that incessant, fast-paced beat found in many of beloved originals, and "We're A Happy Family" explodes with energy and an in-your-face fever. "Beat On the Brat" is the best cover on the album. It is the least polished, giving it a more punk sound fueled by raw and driving guitar chords.
The Ramones are one of the most influential and talented punk bands to come out of the New York City scene — they were pioneers in the genre and have become an institution in the world of music. Doing them justice is hard, but then again, Shonen Knife is a band of high caliber as well. While there may be a heavier pop influence on Osaka Ramones, the album proves to not only to be an excellent way to celebrate three decades of making music, but an excellent way to pay tribute to one of punk's greatest bands.
(Good Charamel Records,PO Box 882 ,Buffalo, NY 14201)