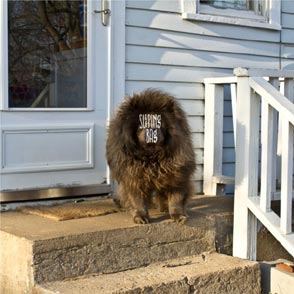 Sleeping Bag's debut album is nostalgic jaunt back to early '90s garage rock roots, complete with apathetically delivered vocals, cool, lazy melodies, and almost no lyrical or instrumental urgency. It comes together to give one the feeling of a gorgeous sunny day spent inside playing a board game: a lot of fun, but with the feeling that something more memorable could have happened if they had just gone outside.
This Bloomington, Indiana based trio started as the solo drum project of singer/songwriter/drummer Dave Segedy (then horribly titled Whoa Bro Awesome) and evolved when he was joined by guitarist Lewis Rogers and bassist David Woodruff from fellow Joyful Noise act The Delicious.
The opening track, "Slime," thrusts the listener into a sort of Pavement on Xanax style that persists through most of the songs. The lyrics aren't particularly grabbing, but Segedy's repetition of "here, here, here" and "slime, slime, slime" is stick-in-your-head worthy. His voice is better suited towards a monotone half-sing than full-fledged crooning, and he smartly plays to his strengths. When he does choose to go high, though, it's endearing and to good effect. The slow roll of the drums on "Rental," the lucid high hat crashing and fuzzed out guitar accompanied with a forceful bass backing, lull you into a steady head nod until the vocals break in with the lost Rivers Cuomo line, "you don't want it/ but you can have it/ you won't touch it/ but you'll grab it." Segedy's dead-pan delivery heightens your awareness of the sexuality behind the line, but also surreptitiously introduces the sort of humor that comes from a teenager accidentally saying something erotic without understanding the undertones.
The playful picking of the guitar solo in "Beside" and the repetition of the words "giddy-up" in place of any real meaningful lyrics let you know that this trio is having fun and not taking themselves too seriously, which is great.
Their real strengths lay in what they don't do. In the song "Minus," Segedy sings "keeping in what you like/cutting out what you don't," and that's just what Sleeping Bag did. There is no fluff here. The songs are concise and catchy. It's the kind of album that doesn't demand a fully attentive audience, just an open one. The only real downfall is that their greatest strength is also what makes the album unremarkable: there is nothing that makes this trio stand out, and they begin to blend in with the crowd instead of pop out upon further listening.
This band is funny, sentimental, and sometimes a bit trite, but they are never flamboyant (save a few traces of whatever the hell Whoa Bro Awesome was). To further this point they are releasing the album in the format of a sleeping bag screen printed by the band which comes with a digital copy. A sleeping bag. I can't imagine come October that the $20 sleeping bag will keep you very warm, but these 11 tracks do keep summer cool, and that's worth the pun.
(Joyful Noise Recordings, PO Box 20109, Indianapolis, IN 46220)