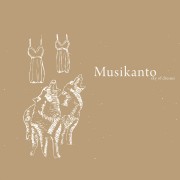 Chicago artist Musikanto's sophomore effort Sky of Dresses is a strong, subtle foray into a complex mix of harmonious folk, soft rock, and solid songwriting that combine to produce a memorable and unique album with a tinge of country soul at its core.
On his 2009 debut album Ghost Pain, songs were often riddled with the trappings of the modern country genre, and that was a turnoff for some people who wanted his variety of Midwestern folk without the country twang. It felt like he was still trying to properly implement the nice orchestration he had been playing around with in Chicago band Sleeper Car, and at times it felt out of place and thrown together with the rest of the tracks. Now that the tone has shifted more towards folk and dropped a lot of the country vibe, use of violin, accordion, and harmonica are more welcome and fitting, and really add to the complexity behind talented guitar and piano playing.
Musikanto's voice is one of his most useful and utilized assets. His sound draws a lot of comparisons to Ryan Adams and Van Morrison, but I think he's also got a little Neal Casal and Kristian Matsson in him too. Despite these associations, the real joy in his voice comes from the fact that amidst comparisons to more well established artists, his voice is distinctive and dynamic. On album standout "Blues for Momma," he sounds like early Dylan without the snarl, and the accompaniment of a sole acoustic guitar highlight his talent.
The vibrancy and energy of this album lay in the feeling that one could listen to these songs looking out a dark apartment window in the city or driving through a golden lit field without discrepancy. The confluence of urban grit and pastoral charm are weighted evenly on the musical scale, and that makes this album highly accessible and reminds me of other bands with similar feels and ethos. Tracks like "Awful Mind" hint at Dr. Dog style instrumentation and Ryan Adams work with The Cardinals. "Every Which Way" is a lost Tarkio or The Decemberists burner, complete with calculated sparseness on percussion, sauntering bass, and precise, low key accordion but without Colin Meloy's quivering, reedy voice and replaced with Mike Musikanto's slyly confident, pronounced, breathy drawl.
These songs are "simple confessions" as he sings on the title track, and that Musikanto had the foresight to keep them simple is a refreshing indicator of his maturity as a songwriter. It'll be interesting to see where he goes next. Nowhere but up?
(Grape Juice Records, 2336 N. Sacramento, Chicago, IL 60647)