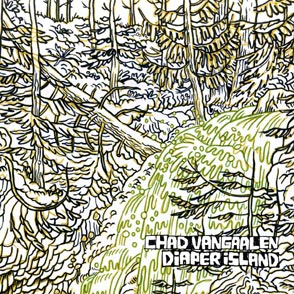 Chad VanGaalen, among the premier songwriters on Sub Pop Records, recently emerged from his home in Calgary to grace us with his latest bunch of off-kilter indie music.  Personally, I'm happy he didn't keep these songs to himself.
From beginning to end, Diaper Island carves a guitar-driven path of reserved jams and refined songwriting. Likening VanGaalen's vocal quality to that of Fleet Foxes' Robin Pecknold, a retro vibe lies under many of the tracks and allots reservation in the stead of busy instrumental sections. Sometimes its a single guitar lick that carries a song ("Peace On The Rise"), or an enamoring swell of  harmonies ("Wandering Spirits"). His ability to augment subtle elements in his music creates a fresh and compelling style of indie rock. The most pressing of these comes midway through the album with a heartwrenching acoustic ballad called "Sara." VanGaalen reaches the lovliest peak of his writing ability during the chorus, in which the phrase "Sara, wake me up when you're home" resonates in a mess of gorgeous harmonies. It was stuck in my head for three days, and I wasn't bothered.
There's a reason why this odd-ball Canadian has the full backing support of Sub Pop Records: he writes really good songs. With Diaper Island, VanGaalen slates a highly refined work that, apart from a few fantastic tunes, can also be appreciated for it's cohesive nature as an album. If your a fan of old Death Cab For Cutie stuff, definitely give this record a spin.
(Sub Pop Records, 2013 Fourth Avenue, Third Floor, Seattle, WA 98121)