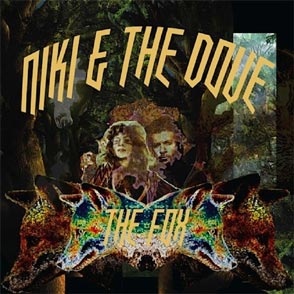 '80s-inspired synth-pop is making its come back in the form of the 12-inch release The Fox from Stockholm natives Niki & The Dove. The duo has a powerhouse approach to their sound, combing raw intensity with subtle melodies and vocals. Comprised of three tracks, the EP has a wealth of instrumentation and creative sound. Each song brings something different and displays a unique aspect of the artists.
"Gentle Roar" is driven by a steady drum beat, echoing vocals, and a dark, quietly chanting chorus. The track has a mythical quality to it as Niki sings "I was afraid of you, now I've gotten used to you." Almost as if taking a cue from Prince comes "Somebody (Drum Machine Live Version)." There is a heavy '80s influence here and a heavy use of synths. The pounding drum beats are wonderfully engaging and catchy.
"The Fox" is far and away the best track in the trio. According to the artists the song is about insomnia, about sharing your worries and fears in the hope of finding peace and sleep. It is driving, pounding, and addictive. The chorus progresses with loud pulsating guitars and crying vocals. It builds to an electrifying and explosive end. It is filled with desperation and a brilliant use of strings and percussion. Niki & The Dove have provided listeners with a great introduction to their latest work.
(Sub Pop Records, 2013 Fourth Avenue, Third Floor, Seattle, WA 98121)