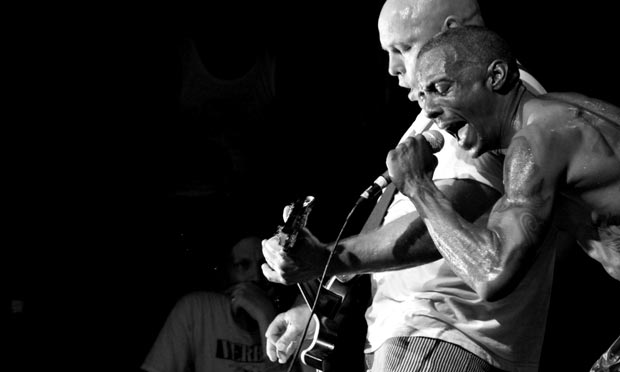 Since 2005, the Black N Blue Bowl (know for the first three years as the "Super Bowl of Hardcore") has brought established and up-and-coming current hardcore bands together on the same bill with influential bands of years past. BNB Bowl 2011 — held May 28th at Webster Hall — was no different. The reunion of Gorilla Biscuits topped this year's lineup, with support from scene stalwarts Sick Of It All, Agnostic Front, and Terror. Other notable reunions for this year's lineup included Absolution, Maximum Penalty, and Antidote, with newcomers Backtrack, Down To Nothing, No Turning Back, Take Offense, and Bottom Out rounding out the lineup.
As doors opened, Agnostic Front's Mike Gallo summed up the evening for fans and band members alike: "I'm sure it will be jaw-dropping. The energy will just be insane." Absolution guitarist Gavin Van Vlack echoed similar sentiments: "This show is a no-brainer. It's just going to be such a great show from top to bottom."
Eager for the excitement to begin, I went downstairs to check out the opening bands Bottom Out, Take Offense, No Turning Back, Down To Nothing, and Back Track. Bottom Out play heavy hardcore with metal influences, and with lots of low end. Their guitarists trade riffs on a few songs, but don't quite cross into playing leads or solos.
California's Take Offense are a modern take on '90s-era metallic hardcore, with furious, thundering riffs and blazing metal leads. Among the songs they played were crowd favorites "Walks of Life" and "Beware the Path."
No Turning Back are relative unknowns in the US, but have a huge following in Europe and elsewhere. In the words of the singer Martijn, the band was there "representing worldwide hardcore," and they did so quite well, playing a tight and flawless set, including a cover of a Breakdown song.
Straightedge superheroes Down To Nothing followed. Down To Nothing's no frills hardcore has been refined over nearly a decade of playing, and both their skill and showmanship were on display as they blazed through their set, the first to really bring the packed house to life.  But it was Back Track who stole the stage early, and was my favorite of the opening bands. Their songs featured a bit of guitar wankery and some sweet riffs, especially in their breakdowns.
One of the best surprises of the evening was Maximum Penalty. This was my first time checking out the band, live or otherwise, and I am disappointed to not have come across them years ago. They opened with the intro of AC/DC's "For Those About To Rock" before launching into their first song. The band plays fast and thrashy hardcore with a lot of rock 'n roll influences, and their singer has an interesting and dynamic voice, mixing singing with screaming. The combination creates one of the most distinctive sounding hardcore bands I've come across in awhile. Their set featured guest vocals appearances by Lord Ezec (Crown of Thornz, Skarhead) and Scott Vogel (Terror), and they got a great reaction from the crowd.
After Maximum Penalty, it was time to get down, Antidote-style. The first time I saw Antidote play live was the Gallery East Reunion, and I didn't think their performance there did them justice. The same could not be said for this night. Though they played a virtually identical set — including the same three cover songs — the band absolutely killed from start to finish. From the first notes of "Something Must Be Done," through covers of "Filler" and "I Don't Wanna Hear It" by Minor Threat and "Rise Above" by Black Flag, to the rest of their own material, Antidote brought their A game.
One of the most anticipated reunions of the night was that of Absolution. Everyone I talked to at the show spoke highly of them. I expected good things, but was absolutely blown away when they started playing. Mixing aggression with melody — including blazing leads and some of the catchiest riffs I've heard in a long time by guitarist Gavin Van Vlack — Absolution embody what I think great hardcore should sound like. Add to this a solid rhythm section and vocalist Djinji Brown — a charismatic front man and one of the most distinctive sounding vocalists I've heard — and you have a recipe for a truly great band. Among the songs they played were "Take Control," "Never Ending Game," and "Armed With Anger." They got a great response from the audience, though many were not familiar with them.
Terror took the stage after Absolution. While I am not a fan of Terror, I recognize why so many people are into them. They put on a great live show, and really know how to keep the audience engaged. Vocalist Scott Vogel is perhaps as known for his interesting stage banter as he is for his raw, angry vocals, and both were on display during their set. The crowd went nuts as they played a set of fan favorites including "Overcome," "Spit My Rage," "Your Enemies Are Mine," "Keep Your Mouth Shut," and "Keepers Of The Faith."
Though I saw them only two months ago, I was stoked to see Sick Of It All again. Opening with "Injustice System," they blazed through a set including favorites "Clobberin' Time," "My Life," "World Full Of Hate," "Step Down," "Good Lookin' Out," and the seldom heard "Just Look Around" and "Rat Pack." No Sick Of It All set would be complete without the song "Scratch The Surface" (and the wall of death), and the band did not disappoint. The icing on the cake of their set was the band's cover of Warzone's "As One," a great song by one of my favorite bands. While rushed for time, and not able to play as long as I would have liked, SOIA pulled off a flawless set in the time they were given.
There was a bit of delay before Agnostic Front took the stage, with a little under an hour and a half before the all-ages show was supposed to end. Without much ado, and little banter between songs, the band raged out all the classics, plus some newer material. Among the songs in their set were "Victim In Pain," "Blind Justice," "Last Warning," "United Blood," "Toxic Shock," "Crucified," and others. Despite being rushed for time, the band played a great set, and everyone in the audience was into it. When they closed with the favorite" "Gotta Go," the epic sing-along felt like it would shake the building down.
Gorilla Biscuits needs little in the way of introduction for fans of hardcore. When they were ready, a pair of horn players came out and played the intro to "New Direction." This was an awesome touch, definitely better than playing a sample. After the intro, as the first few guitar notes to the song rang out, pandemonium exploded on the dance floor. In addition to "New Direction," the Biscuits played a wide selection of their most popular songs including "Standstill," "Good Intentions," "Sitting Round At Home," "High Hopes," and "Cats and Dogs," among others. They also managed to find time for two covers: "Do Something" by CIV and "New York Crew" by Judge.  Anthony Civarelli partly dedicated the song to Mike Judge, who was in the audience, but Mike declined to perform the song with the band, much to everyone's disappointment.
Watching Gorilla Biscuits play, you'd swear it was 1991, not 2011. Every song sounded great, and the whole band was full of energy. For their last song, "Start Today," Civ invited the audience on stage to sing along: "There is no barricade here. There are no bouncers here. Trying to control something that should not be controlled is impossible. That is what this is about. You cannot control a tiger in the jungle. You cannot control gorillas in the jungle. We are the animals here. This is our jungle, so for the next two minutes, the stage is yours, the floor is yours, act like the fuckin' animals you are."
The audience took his words to heart, and quickly swarmed the stage, nearly overwhelming the band. They played on, as people crowded around them and flew over their heads. Surrounded on all sides, Civ relinquished the mic to the audience. Walter, who abandoned his guitar, climbed on top of the drum set with his microphone to play the harmonica part, and sing the final chorus with the audience.
Though the day was long and the venue hot, all the bands were excellent, and there was not a single down point to the day. The sound techs kept things going smoothly with quick stage changes, and Black N Blue Productions did an awesome job pulling everything together. Ultimately, what unfolded was an all-ages celebration of the true spirit of hardcore — past, present, and future.