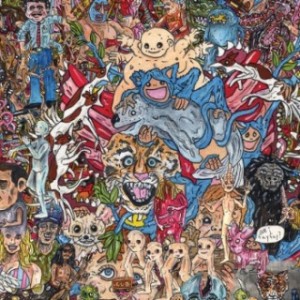 The latest EP from Of Montreal is five tracks of pure and — at times — frightening intensity. The band dives into ominous and dark matter with thecontrollersphere. There are a lot of different sounds milling around this EP, but they somehow manage to retain a consistent tone and atmosphere.
"Black Lion Massacre" combines sounds of thunderstorms with pulsing bass and deep, robotic vocals. Static-y guitar chords swirl over vivid and violent lyrics. "Flunkt Sass v. the Root Plume" takes a break from the darker side and is reminiscent of the Velvet Underground both vocally and in terms of composition. There is still an ominous nature here, but the baritone vocals have been traded in for a higher pitch with a more psychedelic sound.
The track "Holiday Call" is a lengthy track. Clock in at eight minutes and 18 seconds, it is the longest on the album. It has an interesting Middle Eastern flare and is far less abrasive in comparison to its predecessors. The band returns to its signature vivid lyricism with "L'age D'or," a song about emotionless hook ups set to a funky string section and pulsating percussion. It is a bit abrasive, a bit vulgar, but oddly catchy.  It all comes to an end with "Slave Translator." The vocals are more swooning but it still retains the eerie quality of earlier tracks with a slow moving, almost mythical chorus.
The Controller Sphere is a strange and haunting album. It contains only five tracks, but they will take listeners on a rollercoaster ride. Fast percussion, static noise, feverish guitars, and terrifying vocals combine and maintain Of Montreal's signature sound.
(Polyvinyl Records, 206 N. Randolph St., Suite M100, Champaign, IL 61820)