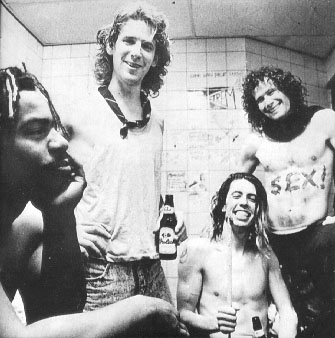 One of Washington, DC's most venerable classic punk bands, Scream will be releasing their first new album in 18 years on August 16th on SideOneDummy Records.
Nearly 30 years since Scream first emerged on the DC hardcore scene, this seven-song EP — entitled Complete Control Sessions — was recorded live in Dave Grohl's Studio 606 this past February, picking up where the band's 1993 swan-song Fumble left off.
The EP features the original lineup of vocalist Pete Stahl, guitarist Franz Stahl, bassist Skeeter Thompson, and drummer Kent Stax, with the addition of and newcomer guitarist Clint Walsh. Though recorded at Grohl's studio, the album does not, in fact, feature Grohl — despite the fact that Grohl was, in fact, a member of Scream from 1986 to 1990 after Kent Stax left the band. As we all know, after Scream broke up, Grohl would join Nirvana.
Scream's Complete Control Session will be the second in a series of studio recordings that air on SideOneDummy Records co-owners nationally syndicated all punk rock "Complete Control Radio" show. The music will be released on 10-inch vinyl and via digital download.
The band is currently playing shows in North Carolina with Corrosion of Conformity and in Washington, DC with OFF! Scream will be announcing more tour dates this summer.
Watch below for a video of Scream recording the Complete Control Sessions, as well as an excellent video of the band performing (with Grohl) in 1988.