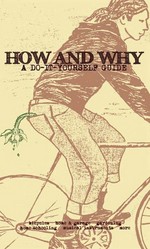 Microcosm Publishing, 176 pages, trade paperback, $14.00
There is something awfully charming about doing things yourself. Binding your own books: that's classy. Planting your own garden and then not having to buy veggies: color me impressed. Changing your oil and fixing your engine: super. There's something substantially less charming about do-it-yourself home schooling with no direction or logic, and do-it-yourself dumpster diving.
The intention is here. The confusingly-named Matte Resist (I guess that's even more alternative than changing "Matt" to "Mat") has compiled his how to do-it-yourself guide relating to just about everything he cares about. The problem is, the guide pretty much explains the way to do things yourself and have them not really turn out that great. Resist admits that his contraptions are just that, and projects — ranging from the bike he made, to the trash can potatoes — just seem pretty average.
How & Why reads like a zine more than a book, and it is a compilation of material that you could just as easily find on the internet. That being said, if you are looking for some helpful hints on where the best dumpsters are, and you can still afford purchasing a book, this might be just the book for you.