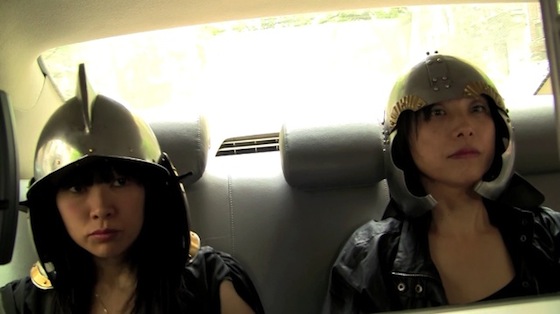 Cibo Matto — the duo consisting of  Miho Hatori and Yuka C. Honda — have announced their reunion with two short tours to take place this summer. The "Yeah Basically Cibo Matto" tours will take place from June 21st to 26th on the West Coast, followed by an East Coast/Midwest run from July 11th to the 20th.
Cibo Matto are also in the process of writing new songs for an upcoming album, which is scheduled for release by early 2012. The shows will consist of a mix of new songs and old; new material may may stream in the future at the band's new website: www.yeahbasicallycibomatto.com.
Cibo Matto was founded in 1994 and the band lasted until 2001. Yuka Honda has since collaborated with the Plastic Ono Band, Petra Haden, Mike Watt, Tricky, Beastie Boys, and many more. Miho Hatori was first person to provide the voice of Gorillaz member Noodle.
Tour dates, a teaser video, and a video of a live performance of "Birthday Cake" are below.
Cibo Matto on Tour
6/21 Seattle, WA @ Neumos
6/22 Vancouver, BC @ Fortune
6/23 Portland, OR @ Doug Fir
6/25 San Francisco, CA @ Bimbo's
6/26 Los Angeles, CA @ Hollywood Bowl w/Yellow Magic Orchestra
7/12 Brooklyn, NY @ Brooklyn Bowl
7/14 Chicago, IL @ Lincoln Hall
7/16 Toronto, ON @ Mod Club
7/18 New York, NY @ Bowery Ballroom
7/19 Washington, DC @ Rock N Roll Hotel
7/20 Boston, MA @ Brighton Music Hall