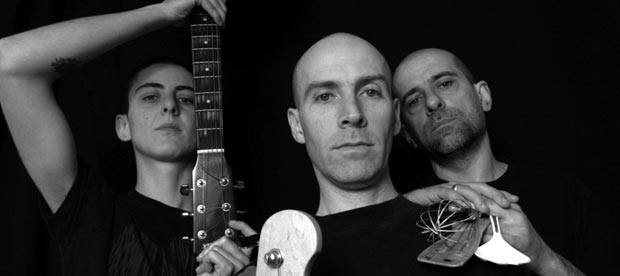 Joe Lally has become a formidable solo performer in the decade since the abrupt end of his longtime band, Fugazi. His debut album, There To Here, was released in 2006, followed by Nothing Is Underrated in 2007. On April 26th, Lally released his long-awaited third effort, Why Should I Get Used To It — three and a half years may have passed since we last heard from Lally, but don't think the bassist's creativity has waned.
"I'm always working on new songs," says Lally from his home in Rome, Italy. The album was, in fact, recorded 15 months ago, in early 2010, but sat on the shelf because, as Lally explains, "I wasn't very confident I could mix it. After recording, the engineer, Mattia Candeloro, and I mixed it — but I didn't trust my work. I waited for Ian [MacKaye] to get some studio time to mix a song and get it back to me. While I sat with it, I realized I couldn't accept anyone else's vision of it anyway, so I might as well present it as is. I had to wait until September when the studio here was free again to complete the last changes.
"It was a good thing," he adds, "because that's the only way to start doing it yourself."
Speaking of "doing it yourself," the album will be a co-release between Dischord Records and Lally's Tolotta Records. Lally ran Tolotta actively from 1994 to 2002, but has not released an album in the past decade. Why Should I Get Used To It will be the first release since Stinking Lizaveta's III — this co-release, however, will be the extent of Tolotta's rebirth.
"I thought [Why Should I Get Used To It] should be a co-release because I am not located in DC anymore," Lally says. "I can't really comment on what's happening there like a Dischord band should, [and] it was convenient to use Tolotta. There are no plans to do more Tolotta releases."
Lally's past two releases have been ensemble pieces, with contributions from musicians across the Washington, DC/Dischord Records indie rock landscape. However, it has now been four years since Lally permanently relocated to Rome with his family. And during that time he has established a new "musical family."
"Elisa [Abela] has been with me about two and a half years, and Emanuele [Tomasi] played with me on and off for about the same," Lally says in reference to his two permanent band mates. "Although Emanuele was never able to practice on a regular schedule — only for a show or a tour — Elisa has been working with me a lot to understand what I'm trying to do with the music.
"Emanuele was suggested by Massimo Pupillo from Zu, and Elisa I met in Catania when I played with drummer, Sacha Tilotta [of Three Second Kiss] and his friend, violinist Giovanni Fidero [of Tapso]. Elisa was at the practices and came to the shows we played in Sicily. She hadn't played guitar live much, mainly drums. I saw her playing at home and could see she was a natural improviser. I pushed her into it by bringing her on a tour. She was also playing saxophone on some songs then."
With the release of Why Should I Get Used To It, Lally will spend much of 2011 on tour, which will take him across the globe.
Tour dates are already planned for, among other places, various European countries, Japan, Brazil, Canada, and the United States. Lally's homecoming will, in particular, be a brief stop, and will not include his Italian band mates: "The next trip I'm planning to the US is in November to tour in the Northeast, [as well as] Canada. I'll just be there long enough to tour for a couple of weeks. I can't afford to bring my musicians from here with me, but I will get to play with drummer Ricardo Lagomasino [of Many Arms] and cellist Alison Chesley [of Helen Money]. Alison just did a tour in Europe and we played a show together in Bulle, Switzerland. I'm looking forward to her taking on the role of the guitarist."
The tour will also take Lally to Brazil, a country for which he has a particular appreciation, both in terms of music and the people.
"I love the music from Brazil and have met a lot of fine people who are also great musicians," he says. "This year I'll bring my new drummer Fabio Chinca, along with Elisa. And drummer Mauricio Takara [of Mauricio Takara 3 and Hurtmold] from Sao Paulo — who I've played with the last two trips there — will join us on percussion."
Why Should I Get Used To It will be receiving special treatment in Brazil with a vinyl-only release — it will be a co-release from Tolotta, Dischord (who handled the pressing), and Brazil's Desmonta Records. A fourth label is in the mix, too — the album "also came out on February 16th on Afterhours in Japan on CD only," Lally explains.
Though he will be globetrotting for a large part of 2011, Lally keeps himself busy at home in Rome: "I spend most of my time working on the music or with my family," he states, and, regarding future projects, Lally offers this teaser: "There's a project with musicians in Austria from a band called Fucoustic who I worked with in Austria last summer. We're trying to write enough material to record an album, if possible."