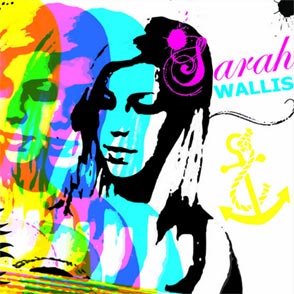 Sarah Wallis's self-titled album is a mix of soft harmonies, breathy vocals, and simple melodies. They melt together into a predictable, yet pleasant composition. The sweet and thoughtful atmosphere created is matched well with the acoustic sound, void of manipulation. This singer/songwriter relishes in her love of music, oftentimes referring to it as life.
The album plays like a diary. Confessions of broken hearts, sentiments of longing, and declarations of independence and newfound strength swirl through out its entirety. With lyrics like, "My bones keep rattling for your sound," and, "Oh the time's got my days/falling down/they're falling down," Wallis uses her music as a way of accepting and moving forward. Tracks such as "Cold Heat" and "Kettle" utilize catchy melodies and Wallis's preference for hazy vocalism.
Wallis has done an impressive job of creating an album with a pure sound. There is no reverb, no heavy reliance on synthesis; most tracks contain only her voice and a few gently plucked guitar chords. The album does have a tendency to sound like most others in its genre — acoustic guitar chords, breathy and gritty vocals, and, at times, cliché retorts on romance and love — but Wallis's love for her craft and ability to bear her soul in a less obvious way than many of her peers is admirable.
(Bullfrog Audio Productions, 233 Bindrum Ln,, Rochester, VT 05767)