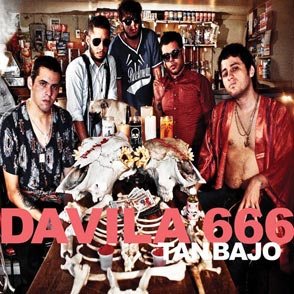 Sure, these muchachos de garage rock look awfully tough on the cover, but let me say they are some of the sweetest guys to rock a dingy-yet-awesome club in New Haven, Connecticut on a Sunday night. Trust me on this one. But just because they are chill doesn't mean they can't lay down some nasty garage rock action, which they do, with much style and attitude.
In fact, I was wondering when this new record would drop, and then I heard a track from their awesome self-titled debut used in a North Face clothing commercial. This was quite shocking, not because I consider them a bunch of sellouts — I just find it funny that something I liked would be used in a commercial. Hey, take the money and run hombres, as long as it keeps you on the road and making albums like this one, then it's all good.  I mean, so many trendy indie bands are doing this, so why not get some cool music in there for once?
And for the listeners, I may add it's time to get over your fear of bands that sing in a different language, because you will be truly missing out if you let xenophobia get in the way of enjoying this music. I mean, it's not like I'm asking you to like some boring "world" music crap, because this is snotty, high-energy garage rock. (It's dedicated to the memory of Jay Reatard for fuck's sake.) The fact that it's sung in Spanish shouldn't factor in your enjoyment of this.
As with their awesome self-titled debut, they manage to mix up styles among the many tracks on display here. They rage like snotty punks on tunes such as "Patitas," "Mala," and "Los Cruces" stretch out for Radio Birdman-esque guitar action and "Robacuna" and "Ratata," with the latter tune featuring a heavy, fuzzed-out, almost proto-metal guitar riff, and get really weird and creepy on the appropriately titled "Noche De Terror." There are also more reflective moments on tracks such as "Yo Seria Otro" and album closer "De Verdad."
So they've managed to avoid the sophomore slump on this and once again deliver a killer record filled with hooks, energy, and punk attitude, which puts them toward the top of the trash rock junk heap. Tour dates have been announced — see you at that same club again soon, guys.
In a word: fantastico!
(In The Red Records, PO Box 50777, Los Angeles, CA 90050)