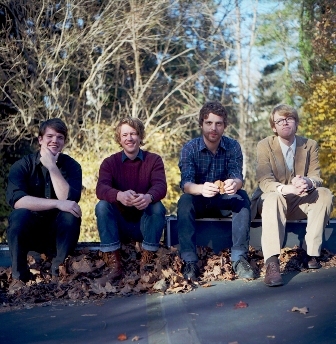 Athens, Ohio isn't typically a place one would look to when searching for good music, especially not in the day and age of the bi-coastal music industry. But this small, offbeat town that sits in the foothills of the Appalachian Mountains is home to Southeast Engine, a band that is truly a rare find. This group of guys has been creating music and sharing it with fans any way they can for years. They've got an undeniable passion for music and a longstanding relationship with their hometown, something that has aided in their ability to create innovative and unique albums. They are the local favorites you go to see when you need a pick-me-up after a bad day.
Adam Remnant, the band's front man, was kind enough to chat with Verbicide about the band's latest release Canary, his favorite albums, and life in Athens.
Your new album, Canary, tells the story of a family in southeast Ohio during the Great Depression. What made you want to make an album that told a whole story?
Well, I live in southeast Ohio and I've been living here for over the last 10 years, and it kind of started when I bought a house a few years ago. One day, a guy knocked on my door and said that his dad had built the house back in the 1930s. They had lived across the street and he detailed what life was like at that time and living in that neighborhood. It was a really interesting encounter and it stayed with me. I imagined what it was like for people living in the area at that time. I just wrote a couple of songs from that perspective and then, I don't know, it just kind of grew. I ended up writing a whole batch of songs from that perspective. I don't know if it even really tells a story so much as its just ideas about what that time was like. I just imagined people living in that time and place and wrote songs as if I was someone from that era.
Did you know going into the project that that was the kind of concept you wanted to have with this album?
Yeah, I think so. I was really interested in this. The songs were all there by the time I took them to the band, and it was pretty clear that all of these songs were going to go together and create an album with that sense of time and place. It was a really interesting period and everything seemed to come together really well.
What is the band's creative process? Is there a lot of collaboration when it comes to writing lyrics and the composition of music?
I'm the songwriter, I guess. I write all the words and the basic core progression and melody. I come up with all of that and then bring it to the band. Then from there, all the guys in the band contribute musically to the arrangement of the song and the visual instrument parts. That part is definitely purely collaborative.
Do you have a favorite song on the album?
I think though that "Adeline of the Appalachian Mountains" is probably my favorite song. It means the most to me. It was one of the first songs I wrote in the initial batch of songs for the album and it just always seems to ring out more for me than any of the others. So, yeah, I would have to say that that is my favorite song.
Ohio and the Appalachia area have obviously had an influence on your music. Where else do you draw inspiration from?
All kinds of sources, I suppose — other bands, other music. We pull from so many different places. Musically, we get inspiration from a lot of other bands. We're all big fans of music from the '60s and '70s, like The Beatles and Bob Dylan and the Band, Neil Young and all that stuff. On these songs I was also listening to a lot of Carter Family and The Anthology of American Folk Music. Music from the '20s and '30s was definitely influential to this batch of songs. That genre of music played a big role in the creation of the album.
Can you tell me a bit about how Southeast Engine got started?
Well, it's a pretty typical story really. Me and the drummer, Leo DeLuca, both grew up in Dayton, Ohio and we went to college in Athens at Ohio University. We both had a lot in common and had similar tastes in music. At the time, I was just starting to write songs and Leo was just getting started with playing drums. We just started playing together. We had a few other friends that were playing with us and we eventually worked up enough songs where we just felt it was time for us to go play some local shows, and that's pretty much how the band was started. Not really anything out of the norm; a pretty typical story of how a band gets started.
Nowadays the music industry seems to becoming more and more bi-coastal. What is it like being a band from Athens, Ohio?
We're sort of in the middle of nowhere and that can make it more difficult for us, I imagine. But, something that is nice about Athens, though, is that it's a college town. It's also a real transient town. People that are here, they go elsewhere, they go to bigger cities all across the country so that kind of helps us when we go out on tour. For example, just playing in Brooklyn and Boston this last weekend we had a lot of people out to those shows who were from Ohio. People, they go, they leave Ohio and then there are things about Ohio that they miss. When Southeast Engine comes through their new town we sort of represent all of those memories and that place to them.
Okay, switching gears for a moment, if you could perform with any artist dead or alive who would it be?
Ha, this is really tough. Anyone dead or alive? Well, I guess Jerry Garcia. We're not a jam band or anything, but I love The Grateful Dead and I love Jerry Garcia. He just seems like he would have been so much fun to play music with because, well, talk about someone who loved music. He lived it and breathed it and I just imagine he knew a million songs. You could probably play anything with him and he could play along with anything. Yeah, he would be great to play with.
What is your favorite city to perform in?
There this town in town in Indiana, surprisingly, called North Manchester and it's a small town and they have this club there called the Firehouse. The town has this really strong sense of community. Whenever we play there its all ages and the audiences are always really, really attentive and excited, and it's just so encouraging as a band. The people there are just so warm and welcoming, it envelops your heart. You can't help but love it.
Do you have any rituals or traditions while on the road or before going out on stage?
You know, not really. I would say that for me, I just try to rest my voice before the show. I'm trying to think, I would have to say we don't have any. I kind of wish we did. Maybe we should start something?
Definitely, every band needs its traditions.
I would have to agree with you there.
So what's next for Southeast Engine?
We're going out on tour. We're going out West and then I think this summer or the fall, at the latest, we'll head back to the East Coast and just do more dates in general that side of the Mississippi. Beyond that it will probably be more touring here and there and then I imagine next year will be spent working on a new album. I've already got a new batch of songs I'm working on and creating a new album is always on the horizon. Basically we're just doing what we do, you know, working on music and playing shows.