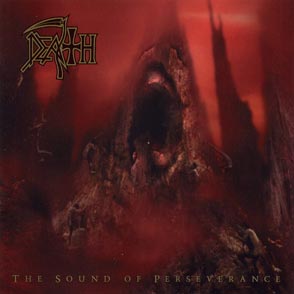 When it was originally released in 1999, Death's final album, The Sound Of Perseverance, was the capstone to the legendary career of one of the most influential metal bands of all time.  The album took the death metal genre to new heights of technical precision, and offered a glimpse of the direction founding-guitarist Chuck Schuldiner would take with his post-Death project Control Denied.
From the opening riff of "Scavenger of Human Sorrow" to the band's ripping rendition of Judas Priest's "Painkiller," all of Schuldiner's trademark guitar-wizardry and the brilliant ear for songwriting that made him a legendary force in metal are present on this album.  Expert support from Richard Christy on percussion, and Shannon Hamm and Scott Clendenin on rhythm guitar and bass respectively aided in bringing Schuldiner's vision to fruition.
This new deluxe edition from Relapse features the original legendary studio album, digitally remastered for the ultimate in face-ripping sound quality.  As if that weren't enough though, Relapse has unearthed the early demos and a number of otherwise unreleased tracks for this reissue, offering a glimpse into Schuldiner's creative process.
Few metal bands have been as influential as Death.  This album remains one of the pinnacles of their career, and is an essential inclusion in every metal fan's record collection.
(Relapse Records, PO Box 2060, Upper Darby, PA 19082)