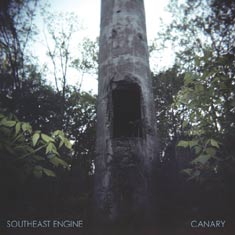 The only thing better than an album that beautifully displays the talents of its artists is an album that does so in a truly unique way. Canary — the fifth release from Ohio-based Southeast Engine — is not only a composition of music, but a moving and poignant story of life; specifically, that of a family living in an old mining town in Ohio during the Great Depression.
Drawing heavily on Appalachian and old time bluegrass music, the album is brilliant both musically and lyrically. As banjos, drums, and organs fuse together in heartfelt harmonies, lead songwriter Adam Remnant shares stories of struggle. While this type of album is not necessarily unique, it is refreshing to see it brought back with such fervor and passion. There are tracks that are soft and soulful and others that are raw and energetic.
"Summer and Her Ferris Wheel" has a fast and driving beat fueled by Leo DeLuca's percussion talent, while "Ruthie" is a romantic love letter from a boy to a girl. "At Least We Have Each Other" sounds like a heavily organ-laden1960s' folk rock ballad, and "Mountain Child" is the defiant refusal to give up even in the face of great adversity. Remnant soulfully sings, "I refuse to lose my home and work in a factory." It is honest and a true depiction of life at this time.
Canary significantly raises the bar for this band, demonstrating their extensive talent and passion for music. Southeast Engine has taken one of the most fascinating periods in US history and set it to engaging music, weaving the two together to create a moving portrait of life and a truly brilliant album.
(Misra Records, no address provided)