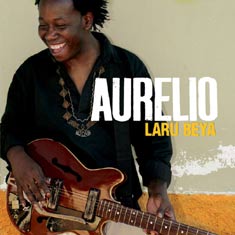 Aurelio is a leading voice in Garifuna music, which takes the melodies of African traditional folk and crosses it up with Brazilian samba beats to come up with a complete oddball of a sound. Aurelio takes the Garifuna sound even farther into uncharted territory with the addition of Afro-pop and Cuban jazz influences.
Laru Beya is a brilliantly crafted album with each track having Aurelio's soul poured into it. Opening track "Lubara Wanwa" is a beautiful melding of sounds with a guest vocal from Senegalese star Youssou N'Dour tossed in at the perfect point. "Bisien Nu" is a beautifully crafted track with heavy influences from musicians like Buena Vista Social Club.
On the whole, Laru Beya is filled with Afro-Caribbean soul and vibrancy that comes out marvelously in every note of the album. This is a solid album that will fit in any world music collection and work as a nice introduction to an interesting genre of music.
(Next Ambiance Records, 2013 Fourth Avenue, Third Floor, Seattle, WA, 98121)