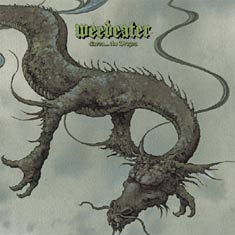 In the four years since Weedeater released their last record, the band's irrepressible frontman/bassist "Dixie" Dave Collins has been through a lot. Last year, he accidentally shot off a toe while cleaning his favorite shotgun. (This didn't stop them from touring, of course, they just titled that jaunt "The Nine-Toed Tour"). This pushed back recording of this new record a little further. Plus, also keeping him busy was rejoining the recently reformed Buzzoven for a string of live dates which will eventually lead to a new album sometime in the near future. So he's been busy, but that time off must have been good for the because "Jason…" is the band's tightest and most focused record to date.
Collins and his cohorts must be smoking the good stuff, because this record, err, smokes, from start to finish. The band has no time for extended sludge jams or drones, which seems to be the norm these days in this world. Most of the songs are under four minutes and hit heavy and with a lot of groove. It's like they trimmed a lot fat from their sound and went straight for what makes this stuff great in the first place. Songs such as "Mancoon," "Turkey Warlock," and the title track are burly powerful beasts, laden with the aforementioned groove that bands from the south do so well. This punkier approach has worked wonders for the band, because their last record, God Luck & Good Speed, was considered a high point, but this one sets the bar even higher. Even their excursions into wonked-out bluegrass work wonderfully.
After listening to this record you can why musicians such as Phil Anselmo (who took them on tour with Down last year) and Randy Blythe are fans. They totally destroy.
This my friends, is the good shit.
(Southern Lord Recordings, PO Box 291967, Los Angeles CA 90029)