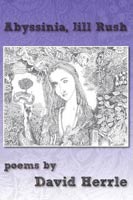 Time Being Books, 120 pages, paperback, $15.95
"'Abyssinia' is a 1930s pun on 'I'll be seeing you,'" reads an introductory page among the dedications and acknowledgements in David Herrle's fresh new collection of poetry. The book is a modestly sized paperback, small enough to fit in a front pocket of a backpack or be rolled up into a purse. The cover is adorned with a pen and ink illustration of a young woman surrounded by a myriad of mysticism and inset into a purple gradient. It sure is a pretty little thing, but judge this book by its cover, you cannot. Upon diving midway into Herrle's work, you'll find yourself hanging on to declarations of love, loss, and other ponderings intimate enough to make your jaw slack.
The selected works of Abyssinia are alive with a kind of wild wit that's sometimes subtle in its delivery and other times blatantly hard-hitting with pop culture references and unashamed sexual banter. Herrle uses no distinct form in his work, but keeps things short and quick to the pay off, which is not only fitting to the times they are written in, but perhaps even relevant. It's a refreshing read if you're looking for a break from the stylistic poetry published of late and the classic classroom standards.
The book is split into three parts: "Self-Centered," "Jill Rush," and "Abyssinia." The first section is just as it sounds. It is comprised mostly of work based in self-reflection, musing candidly over both his physical and mental state often with youthful whimsy. The second section, Jill Rush, largely concerns a love in the past tense, presumably by the name of Jill. Then, in Abyssinia, we see the growth of a man's story begin to unfold. The last section tackles darker subjects: depression, the complexities of life, the day-to-day struggle it takes to reach "healing."
It is a beautiful first look into Herrle's twisted mind. I'm curious to see where he takes his talent from here.