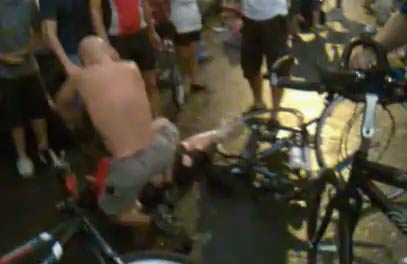 Not for the faint of heart, the following videos show an overhead cell phone video (via a Brazilian news broadcast) and the aftermath on the street (from an eyewitness) of a maniac who sped through a Critical Mass bike ride in Porto Alegre, Brazil on Friday, February 25th. The driver apparently sped through the crowd, attempting to mow down as many of the cyclists as possible, before ditching the car.
According to the Brazilian news, there were 130 riders. Fifty were hit, and two are in serious condition. The driver ditched the black Volkswagen Golf and took the license plates, and police have no suspects.
Here is a link to an English language translation of a blog post on the Porto Alegre Critical Mass page (or, if you prefer, the original Portuguese language version).
News broadcast with cell phone video of the attack:

Eyewitness video of the aftermath: