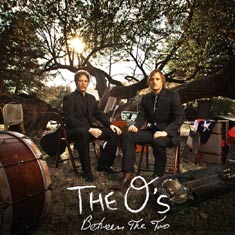 Thank god banjos are back in style; the world isn't as beautiful without them. With bands like the Avett Brothers and Mumford & Sons kicking country music's ass into gear, it's only fitting that we'll be seeing more bands doing something amazing along this line. Sure, some of the efforts will be paltry, but this is certainly not one of them. The sophomore effort from Dallas's The O's is amazing.
Taylor Young and John Pedigo know how to write a straight up country song ("Tennessee Coalminer"), a bluegrass rag ("Everything's Alright"), a bluesy down home number ("In Numbers We Survive"), and more. They also know their instruments, rolling comfortably with a banjo in one hand and a Lowebro in the other (the steel guitar's bastard cousin).
It has the sly lyrics of the Mountain Goats and the alt-country lure of Ryan Adams. It's got dashes of the heart and soul of Mumford & Sons and hints of the energy of the Avett Brothers. And if you take a look at those four comparisons as a whole, that's a hell of a lot of promise. And, knowing it's only their second release together, that should give a whole lot of hope to consummate banjo lovers worldwide.
(Idol Records, PO Box 720043, Dallas, TX 75372)