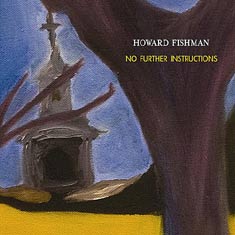 Throw a hammer to a nail and you will hear it ring. Kick on a bit of Howard Fishman and you will hear him sing. Like a freight train traveler, a narrative seems to flow effortlessly through his teeth. His straight-talking delivery holds that true, steady tone of old. The tracks compiled on No Further Instructions are like an intimate conversation between a visionary and a simpleton.
Spawned from the streets, Fishman is a man with many voices. With roots in New Orleans all the way to New York, Fishman has experimented with jazz, blues, folk, pop, rock, funk, and country along the way. His latest venture, No Further Instructions, targets the deepest roots of these many styles and seems to produce gypsy-inspired ballads and wayfaring folk songs with antiqued detail.
Written and influenced by Fishman's trip through rural eastern Europe, No Further Instructions is an adventure in itself. An old world style of story telling, complete with subtle humor and truthfulness, seems ever present within the tracks such as "In Romania," "The Farmer's Song," and "Through the Countryside."
Howard Fishman paints pictures as real as your best dreams. No Further Instructions is an inspired piece of work through which speaks the curiosity of distant culture and worlds forgotten.
(Monkey Farm Records, no address provided)