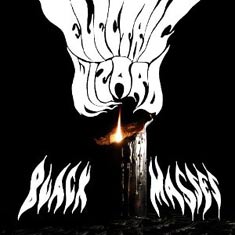 Who would have thought that 17 years on and seven albums in that Electric Wizard (or any band for that matter) would be making some of the best music of their career? Picking up where Witchcult Today left off, their new record is a joyous ode to the power of the riff.
Recorded once again in analog with Tim Easton at Toe Rag Studio, this album has a thick, warm, and inviting sound, luring the listener down the band's left hand path. In fact, it sounds like it could have been the soundtrack to one of the long lost video nasties from the '70s that Jus and company obsess about in their songs. It crackles and is alive in ways that digital cannot capture.
Also, it's a doom album with a slightly lustful, even darkly sexy side to it. It's not cold and distant like many doom albums; instead it's warm, pulsating, sweaty, and right in your lap. If we started a new sub-genre and called it "sexy-doom," this would be the anti-bible.
Much has been made about the band's subject matter, but the thing that is really going to lure people in are the band's monstrous riffs and the way the production captures said riffs. Jus Osborn's and Liz Buckingham's guitars bring the thunder and when they solo, it is pure psychedelic bliss oblivion.
But this isn't just a riff fest for the sake of a riff fest. Another wonderful thing about the album is how the riffs are supported by rock solid songwriting. The title track and "Patterns Of Evil" have a catchiness that is sometimes sorely missing in this type of music, while "Venus In Furs" is a demented ode to a demented woman which features an equally demented vocal by Osborn. The only real come down is the closing track "Crypt Of Drugula," which seems more like an avant-doom mood piece than song, but even that works in a way, because Osborn has said he looks as this as the come down after a long strange trip.
Still, Black Masses is a strong album from front to back, easily making it one the best heavy albums of the new year.
As a wise person once said, "Don't call it a comeback!"
(Metal Blade Records, 2828 Cochran Street, PMB 302, Simi Valley CA, 93065-2793)