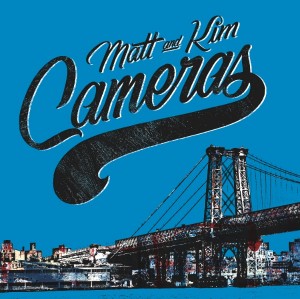 The latest video release from Matt and Kim features the band-mates taking each other on in a one-on-one, every-man-for-himself fight scene. Filmmaker Jonathan Del Gatto, whose honors include a Sundance Short Filmmaking Award and a Cannes Golden Palms Nomination among others, directed the video.
The video was shot in North Hollywood, CA at Apache Studios with producers Marc Petri (The Mummy: Tomb of the Dragon Emperor) and Stacy Paris of Foundation Content and choreographer Freddy Bouciegues of 87 Eleven (Bourne Ultimatum, Ninja Assassin). Working alongside Del Gatto, the two-day shoot entailed numerous takes and meticulous attention to detail and planning for both Matt and Kim and the crew working alongside them. Prior to shooting, the band went through intensive training to make each and every action come to life. Yes, there was blood, bruising, pain and injury. Shows needed rescheduling and recovery time was prescribed, all on par with the typical jam that seems to go down whenever this band makes a video.
Click here to check out the video at Matt and Kim's site!