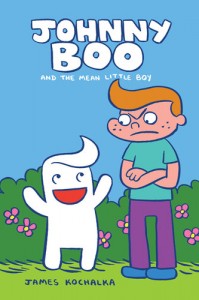 Top Shelf Productions, 40 pages, paperback, $9.95
My first exposure to James Kochalka was when I heard "Wash Your Ass" by Kochalka's band on a Vermont radio station after midnight. For a while I listened to James Kochalka Superstar, unaware that he was also a cartoonist, until years later when I saw a comic of his in a zine. Now I've discovered a goldmine of art by Kochalka.
Johnny Boo is reoccurring character in Kochalka's children's books. I think I missed out a lot on the storyline because I've only read the fourth installment in the series. In this episode, Johnny Boo (who's a ghost) is busy playing with his friend Rocky the Rock (who's a rock) and has no time to play with his friend Squiggle (who's also a ghost). Squiggle flies off in search of a new friend to play with and soon encounters the Mean Little Boy, who mistakes Squiggle for a butterfly. The Mean Little Boy chases Squiggle with a net and then imprisons him in a jar. Only Johnny Boo can save the day. A very cute comic where parents can assign different funny voices to each character when reading it to their child. I'd suggest getting the first three episodes before reading the fourth.