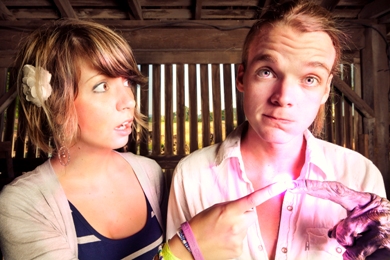 He Is We is the boy-girl duo from Tacoma who have impressed and proven to be a smash hit all the way from here to there. Their repertoire consists of pop and sizzle, the likes of which could have you rolling on your back with blissful ecstasy in no time at all. He Is We's debut full-length album, My Forever, compiles some of their best work to date, and in light of the occasion, Rachel Taylor and Trevor Kelly were kind enough to sit down with Verbicide and offer some background and some inspirational anecdotes about Michael Jordan.
How did the two of you meet? And more importantly, how did the two of you go from just meeting to forming He Is We?
Trevor: We worked at Ted Brown Music in the lovely Tacoma, Washington.
Rachel: It's mostly a band and orchestra rental store…which we know next to nothing about. We would sneak into the back with a guitar and jam.
Trevor: Turns out [that] being surrounded by kazoos and French horns puts you in the mood to write sad acoustic tunes.
How do you two collaborate when you write songs? How are the lyric writing/musicianship responsibilities shared, and how do you think that affects the finished product — if it does at all?
Rachel: Every song is totally different. Some start with a concept or story. An idea or a vision.
Trevor: Yeah. Sometimes I'll have some chords, or Rachel will have part of a song she put together on piano. I think not having a specific formula for how we write helps each song sound different and be its own thing.
Rachel: Totally! "And Run" started with the idea of the hook being, "Oh ah oh ah oh ah oh oh." Dan Romer — who produced this song — and Trevor totally ran with it and turned it into more than I ever imagined.
Purevolume gave you guys a bit of a running start. Would you say the exposure you got from Purevolume made it possible for you to record My Forever?
Trevor: I think Purevolume was a platform, and then the listeners did all the work. Rachel's songs are really honest and vulnerable, and people really connect with that.
Rachel: Purevolume has been amazing to us. When we put "My Forever" up we got something like 50 or 60,000 plays the first day! That blew my mind and was a really humbling moment.
You guys come from the Pacific Northwest — what would you say about the area in terms of music? Did it help or hinder you in any way?
Trevor: I don't know. That is hard to say. We have a lot of great bands that we grew up with like Sunny Day Real Estate, Acceptance, Gatsbys American Dream, and now we have bands like This Providence, Classic Crime, [and] Scene Aesthetic, as well as the indie stuff going on like The Head and The Heart, Fences–
Rachel: Deathcab for Cutie!
Trevor: Absolutely. We love Seattle and have a lot of people that love us there, but actually, our biggest followings are in Salt Lake City and Toronto, believe it or not.
Rachel: Yeah, it's kind of crazy, but I'd say it's helped over all.
He Is We got its start as an independent group and identifies as "indie pop." How does signing to a major label affect your image?
Rachel: It hasn't really affected it. They loved us for us. We made the record that we wanted to and are really proud of it.
Trevor: A bunch of guys in suits never sat us down, zapped our brains Men In Black-style, and told us our new names, new sound, new image–
Rachel: Or did they? Straight up Matrix style. We'll never know. (laughter) No, but really…they liked what we were doing and wanted to team up.

What can you tell us about the new album?
Trevor: We worked with a bunch of awesome producers who have worked on records we really love. Dan Romer has done Ingrid Michaelson, Aaron Sprinkle has worked with Eisley and Acceptance, and Casey Bates did Portugal The Man and Gatsbys American Dream. They helped us learn a lot about writing good songs, and it sounds cheesy, but we learned a lot about ourselves, and I think that comes across on the record.
Rachel: The record is called My Forever, and I guess to add to what you said earlier, it is kind of my definition of love. Love isn't just something for a moment or for a while for me…it's forever. The album also pairs well with a "romcom" and pint of Ben & Jerry's.

You just finished up a tour with The Rocket Summer. How was that?
Rachel: It is always so great to get on the road and hang out with our fans. It is even better when we get on the road and make new fans.
Trevor: And new friends! The whole Rocket Summer crew was awesome. We had a lot of fun. Gave them all sweet nicknames: Ace Bryvry (Bryce Avary), PanTara (Bryce's wife) MegaSeth (guitar tech), Striker (sound guy). Definitely was an honor and a privilege to be out with them. It was acoustic. We'd love to do a full band tour with them sometime.

Are you relaxing now?
Rachel: (laughter) We never get time off. As soon as one tour ends we start practicing for another tour, or writing new songs.
Trevor: Of course, we're taking a little holiday break, but we like to be working on getting better and better. Rachel is super into hip-hop, and we always read these interviews and those guys never slow down.
Rachel: Everyday I'm hustlin'! (laughter)
Trevor: Something like that.
What can we expect from He Is We in the future?
Rachel: Touring! I think we'll be on the road the most of 2011. We truly can't do this with out the fans. Being able to get out there, hang out, and become friends more than anything. Trevor will also be releasing a calendar with different cats and his collection of energy crystals.
Trevor: Energy Crystals? I wish. Available at mall kiosks around the country. I should really look into that. I think I would pull off a Young Tarzan calendar much better. Plus, I'm allergic to cats.
Last thoughts?
Rachel: Check out our music. Love it, hate it, feel free to email us whenever and let us know.
Trevor: Our email is heiswefans@gmail.com. We try and reply to every single email.
Rachel: I feel like I'm supposed to be inspirational now. Follow your heart!
Trevor: Dreams come true.
Rachel: Never look back.
Trevor: Hard work pays off.
Rachel: Michael Jordan probably missed his first free throw.
Trevor: Are you sure?
Rachel: I said probably missed his first. That's a safe assumption.
Trevor: I'm inspired! Thanks Hanna. We love you Verbicide!