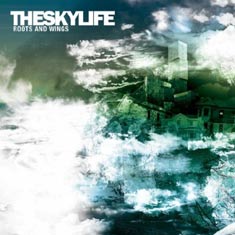 Canadian rocker's The Sky Life are a melting pot of sounds. I can't say that they have a patented "trademark," but they seem to gather a combination of many aspects of pop that we all love to hear. Their new release Roots and Wings is bursting with energy and full of tasteful hooks, silencing the typical judgements I hurl at the pop genre. Honestly though, the sheer melodic nature of The Sky Life can sometimes ride the line of being overbearing, but every instrument seems to fall and rise with enough integrity that it never crosses that line.
What brings the music together are the prominent vocals of frontman Justin Carter, who has an impressive range worthy of major label attention. Although Jay-Z would have serious problems with it, the sporadic auto-tuning is refreshing, mostly because it's not disguising the vocals but adds a nice touch here and there. Tracks I connected to most were the likes of "In The Dark" (the drums between verses demanded my respect), "Neon Stars," and "Sober Heart, Sober Mind" (nicely blending organic with synthetic vocals). There is an overall positive tone to the record, making it a joyful experience through and through. Even during the lyrically darker moments, it's easy to abide in the the melodies without wallowing in the subject of the song.
If you're a fan of well-crafted pop-rock and/or dream of a musical fusion between Owl City and U2, The Sky Life's Roots and Wings will bring joy to your ears. It's an impressive album that deserves a head nod. Simply put, these guys know how to craft enjoyable music.
(Deep Elm Records, 210 N. Church Street, Suite 2502, Charlotte, NC 28202-2385)