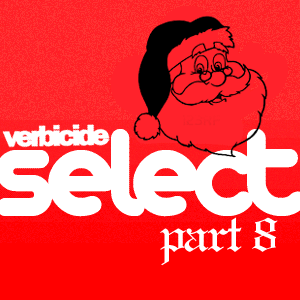 Yes, we know, Alvin. You want a hula hoop. Will someone please get this rodent a friggin' hula hoop?
It's the most wonderful time of the year, and if you're like us, you're tired of suffering through the same old Christmas music, year after year. Well, friends, suffer no more.  We're offering sweet, sweet relief.
We dug deep into our big sack of goodies and pulled out a gift for all of our faithful readers. With Verbicide Select Mixtape Volume 8, you can celebrate the birth of Santa with brand new holiday music from the likes of Deer Tick, who've contributed a track from their new EP, Holy Shit, It's Christmas! You can listen to an ode to fruitcake by The Superions, which features the inimitable vocals of Fred Schneider of The B-52s. The Sleepy Rebels, Slow Club, Jenny O., and more will make sure you have the hap-hap-happiest holiday since Bill Cosby Hammer-danced with Mary fuckin' Kay.
Click (control click for pc) to download!
[wpdm_file id=5]
1. Deer Tick
"Christmas All Summer Long"
From the digital EP Holy Shit, It's Christmas!
Courtesy of Partisan Records/Force Field PR
www.partisanrecords.com
2. Jenny O.
"Prettiest Little Present"
Free digital single
Courtesy of Manimal Records/Girlie Action PR
jennyo.tumblr.com
3. Slow Club
"Christmas (Baby Please Come Home)"
From the EP Christmas, Thanks For Nothing
Courtesy of Moshi Moshi Records/Big Hassle
www.moshimoshimusic.com
4. The Superions
"Fruitcake"
From the album Destination…Christmas!
Courtesy of Fanatic Records/Toolshed
www.fanaticpromotion.com
5. Summer Camp
"Christmas Wrapping"
Free digital single
Courtesy of  Moshi Moshi Records/Big Hassle
www.moshimoshimusic.com
6. The Puppini Sisters
"Last Christmas"
From the album Christmas With the Puppini Sisters
Courtesy of The Verve Music Group/Girlie Action PR
www.vervemusicgroup.com
7. Sleepy Rebels
"California Christmas"
From the album Bah! Humbug!
Courtesy of Sleepy Rebels/Girlie Action PR
www.myspace.com/sleepyrebels
8. The Hush Now
"On Holiday"
Free digital single
Courtesy of The Hush Now/Girlie Action PR
www.thehushnow.com
9. Boca Chica
"Not On Christmas Eve"
From the album An Indiecater Christmas 2010
Courtesy of Indiecater Records
www.indiecater.com