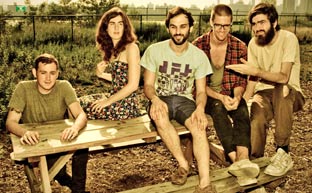 The New Jersey indie rock band Titus Andronicus's  new album, The Monitor, was released via XL Recordings on March 9th, 2010, the 148th anniversary of the Battle of Hampton Roads, wherein the U.S.S. Monitor and the C.S.S. Virginia entered into their epic struggle off the coast of Virginia.
The Monitor is more or less a "concept album" – that is to say, it uses the American Civil War of 1861-1865 as an extended metaphor for the concerns addressed in a somewhat linear narrative. In said narrative, our hero leaves his humble birthplace of New Jersey – the oppressive and stifling qualities of which were discussed ad nauseam about one album ago – for the greener pastures of Boston, Massachusetts. His thesis – "the enemy is everywhere" – is put to the ultimate test as he pontificates on the topics of regional identity, emotional anesthetization, and the heavy yoke of trying to live decently in indecent times. All the while, he is forced to wonder whether said American Civil War was truly won or lost, or even completed. Will he find the supportive environment and like-minded compatriots he dreams of? Or will he be forced to leave his newly adopted home in ideological disgrace?
Click (right click for pc) to download!
[download id="403″ format="1″]