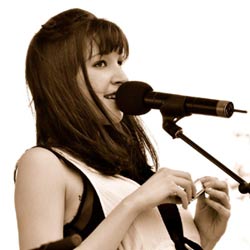 Her latest CD, Life in Letters, introduces the new 20-year-old face of Lucy Schwartz, but listeners may already know her voice. How could anyone forget it? Rich and dreamy and all lit up in Technicolor, it's graced movie theaters and TV sets across the country. "Darling I Do," is one example: Lucy created the love theme to Shrek Forever After and performed the song with her co-writer Landon Pigg on "The Tonight Show" with Jay Leno. The Los Angeles-based singer-songwriter has also written for numerous films including Mother & Child, Post Grad, Adam, and the Meg Ryan comedy The Women, for which she created songs for both the front and end credits while still in high school. She recently penned the international theme song for "Parenthood," and her songs have been featured in more than a dozen hit television shows.
For Schwartz, who sang the hilariously campy jingles "Mister F" and "For British Eyes Only" on "Arrested Development," drama comes naturally. "I did a lot of theater growing up," says the effervescent Lucy, "so I like the idea of escaping into a character and becoming someone else."
Click (right click for pc) to download!
[download id="395″ format="1″]