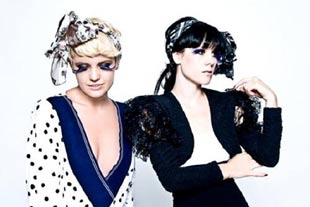 About a year ago I was sent a link to Fan Death's song "Reunited" by a friend in Montreal. She and I had worked on a short film about a dance party and she wrote to me expressing her wish that the film had turned out like this video — a campy and, at times, dreamy fantasy video about a journey to meet up with a friend and finding a lot of fun, accidental encounters along the way. I was hooked on the band and its familiar yet foreign sound. They were an enigma and I wanted to be puzzled, drawn in and absorbed into the pixilated frenzy.
Vancouver's Fan Death (Dandi Wind and Marta Jaciubek-McKeever) eschews the normative template for success in Canadian music. First of all, I don't think any media attention has been based on the fact that they are from Canada. They don't look like a Canadian band, like Arcade Fire or Broken Social Scene or Metric. They don't have beards, toques, or sound like music played in car commercials. They aren't in their mid-30s writing to a core audience of teenagers who line up to see vampire movies.They don't front a boy-centric sound, and they appear to be in total control of their art, a duo set on bringing back "dark disco" and electronica, kept fresh and longed for by the netherworld of blogs where their fans write about them with intimate fondness and admiration.
Maybe its this "new" sound, coupled by the need to reinvent the genre that hasn't really been in fashion for decades that makes them so exciting. That they toil in abject disco beats and deliver a sound with a slyly haunted atmosphere. That they appear to be a mysterious B-movie live act, dance act, whose image and energy has them being sought for photoshoots and interviews from magazines as varied as Entertainment Weekly, Playboy, and Flare.
According to interviews and my own probably terrible misinterpretations, the duo operate as an ongoing art installation side project that just happens to have bloomed into a wildly hyped act with an acruing audience and buzz overseas. In addition to having the opportunity to make adventurous music videos (three so far) and release the EP A Coin In The Well, the band has recently signed to a major label and are working on their first full-length LP.
But what the hell do they sound like? And what is Fan Death? First, the sound: a little bit of 1970s glam disco (maybe some Boney M?) minced with late 1980s British synth pop sounds reminicent of Pet Shop Boys, New Order (but less girly), and Depeche Mode, served with puddles of melodic clouds and harnessed with lyrics of late night romance and love that toils in fantasy and claws at the seams of maudlin infinity. If that is possible.
And the name? It's an old urban legend about falling asleep with a fan on. Which I did last week and my fan fell off my desk and into the waste paper basket and broke. No joke. It was a bit eerie. I had a chance to talk to one of the founding women of Fan Death, Dandi Wind, about her creative process, influence, fans, and other things that I thought were important at the time.
You have said in interviews [that] the 1970s inspired you a great deal. There is a duality in your sound, a sort of '70s disco combined with late '80s synth pop, which makes you an anomoly in the Canadian music scene, almost removed entirely of its bearded indie existence. Do you have any sense of nationalism or anything like that when you're touring abroad? Or is that not really important?
Nationalism, no, not really. I don't think of myself or the band as being Canadian or anything. I could've been from anywhere I think. That said, I do feel as though there are many great Canadian acts over the years to which i feel a kinship: Lewis Furey, Skinny Puppy, Nash, The Slash, Psyche, Leonard Cohen, Neil Young, Lime, Rational Youth, Gino Soccio, Final Fantasy, etc. Having lived in Montreal for almost three years I learned alot of Canada's disco/dance contributions over the years.
Dandi, you directed and conceived the brilliant video for "Reunited." I have showed it to dozens of people and they all react differently. Some are terrified, some are addicted, and some are mesmerized. What was the initial concept behind the video? To me its a bit of a fantasy piece that combines Little Red Riding Hood, Super Mario Bros., (that one's based on a Youtube comment) Alice in Wonderland, and a little bit of David Lee Roth's "Just A Gigaloo" video, but way more interesting and, well, actual art.
The concept was just to have create a short story around the concept of being "reunited," which Marta and I ultimately are in the video. None of the things you've listed were inspirations. My favorite video director is Anton Corbijn, whose '80s videos often featured little journeys, so i suppose "Reunited," subconciously, is a tip of the hat to him.
Having seen clips of your shows on the internet, you really put a lot into performing and keeping the crowd's energy going. What sort of shows did you go to when you were younger — or now — that inspired you? What were some of your favorite shows to see?
I didn't really see any shows when I was younger. But currently I think there are some great acts: Kap Bambino from France, Brilliant Pebbles from Chicago, Katie Stelmanis from Toronto, Twin Crystals from Vancouver, Duchess Says from Montreal, Les Georges Leningrad (RIP) was great too… Oh, and Selfish Cunt from London.
New Order's Bernard Sumner used to say the typical New Order fan was a football holigan. What would you say your fans are, typically, atypically, or let's say, what have been some highlights interacting with fans over the past year as you tour?
I don't know, because I'm quite shy and don't interact offstage with fans. Also, I'm not interested in social networking and self promotion or anything, so I couldn't say.
What is your collaborative songwriting process like? When can we expect the first full-length LP from Fan Death, and when are you coming back to Canada to tour?
The songs are always written by me in collaboration with Szam Findlay, the producer of Fan Death who i've worked with for almost a decade on my other band Dandi Wind and tons of other art projects. Fan Death also covers an old song of Marta's called "Side by Side." I haven't the foggiest when the LP or touring might be — hopefully sometime this decade.
—
Nathaniel G. Moore is the author of Wrong Bar (Tightrope Books, 2009). He lives in Toronto where he is an editor at Broken Pencil.