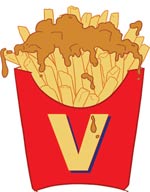 On November 13 and 14, Verbicide is visiting one of the liveliest independent publishing conferences in North America. We always enjoy making the trip to Montreal, and the Expozine gives us a good excuse to head north to make new friends, to take in the vibrant culture, and to gorge ourselves on poutine.
Oh, Canada. We here at Verbicide are big fans.
That's why this year we're giving you first access to our latest free digital mixtape. We worked long and hard with a bunch of fine folks to put together a collection of music that you haven't yet heard anywhere else.
Featured on this mixtape is a new release from Darryl Jenifer of the legendary hardcore band Bad Brains (courtesy of ROIR). We've got the brand new Spokes track, "We Can Make It Out," courtesy of Montreal-based Ninja Tune. We have a track from Ottawa-based Philly Moves, winners of the Readers' Choice Award in the 2010 Verbicide Unsigned contest, as well as a track from Judges' Choice Award winner, Annie Bethancourt!
This mixtape marks the first public release of The Mynabirds' forthcoming holiday single, "All I Want is Truth (for Christmas)" (Saddle Creek Records). We've also got previously unheard songs from Broughton's Rules (Relapse Records), The Sky Life (Deep Elm), Oh Land (Epic Records), and a whole lot more.
Seventeen new tracks to add to your iPod. Pas besoin de dire merci. We'll see you next year at Expozine 2011!
Click (control click for pc) to download!
[download id="372″ format="1″]
1. Philly Moves
"Beats Me"
From the album 25 Years
Courtesy of Philly Moves
www.myspace.com/phillymoves
2. Annie Bethancourt
"Oh, What's a Girl to Do"
From the album Three Hundred Suns
Courtesy of Annie Bethancourt
www.myspace.com/anniebethancourt
3. HeavyFeet
"Here We Go Again"
From the EP Sawdust & Sultanas
Courtesy of Plant Music/Big Hassle Media
www.plantmusic.com
4. The Mynabirds
"All I Want is Truth (for Christmas)"
From the forthcoming 7" All I Want is Truth (for Christmas)
Courtesy of Saddle Creek Records
www.saddle-creek.com
5. Spokes
"We Can Make It Out"
From the forthcoming album Everyone I Ever Met
Courtesy of Ninja Tune/Counter Records/Score Press
www.ninjatune.net
6. Darryl Jenifer
"Black Brains"
From the album In Search of Black Judas
Courtesy of ROIR
www.roir-usa.com
7. Oh Land
"Sun of a Gun" (Yuksek remix)
Original (non-remix) track appears the EP Oh Land
Courtesy of Epic Records/Big Hassle Media
www.epicrecords.com
8. Helen Money
"Political Song For Michael Jackson to Sing"
From the album In Tune
Courtesy of Table of the Elements
www.helenmoney.com
9. C.E. Lane
"Your Garden"
From the album Meet Me at the Corner
Courtesy of Porterhouse 101
www.porterhouserecords.com
10. New Collisions
"Seven Generations"
From the album The Optimist
Courtesy of Only Love Records/Girlie PR
www.newcollisions.com
11. Vonnegutt
"Bright Eyes"
From the EP The Appetizer
Courtesy of Favorite Gentlemen/Purple Ribbon/Big Hassle Media
www.favoritegentlemen.com
12. The Glass
"Four Four Letter"
From the album At Swim Two Birds
Courtesy of Plant Music/Big Hassle Media
www.plantmusic.com
13. Broughton's Rules
"Silver or Lead"
From the album Bounty Hunter 1853
Courtesy of Relapse Records
www.relapse.com
14. The Sky Life
"Reflective Eyes"
From the album Roots And Wings
Courtesy of Deep Elm Records
www.deepelm.com
15. Bad Cop
"Judas the Snake"
From the album New Roughs
Courtesy of ROIR
www.roir-usa.com
16. Mall'd To Death
"Migrane Belt"
From the limited edition USB compilation UnderStandablyBroken
Courtesy of GC Records
www.gcrecords.com
17. Owen
"Abandoned Bridges"
From the 7" Abandoned Bridges
Courtesy of Polyvinyl Record Co.
www.polyvinylrecords.com