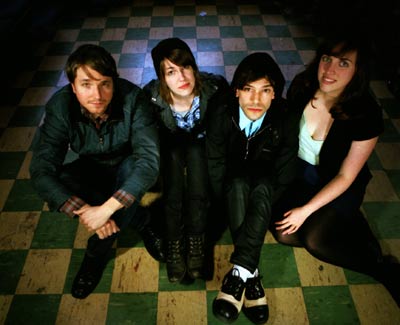 First of all, there are no pandas in Canada. Anywhere. We've only seen pictures of them in magazines or watched them on Disney cartoons. Maybe that's why I got excited when Hot Panda's second LP How Come I'm Dead? recently arrived in my mailbox for review. Launched at Toronto's legendary Horsehoe Tavern last month, where lead singer and Edmonton native Chris Connelly said the band has played a hell of a lot of times, the album is an guitar-infused mood disorder: catchy, volatile, and, at times, funny. At the launch, the band played a surprisingly short set despite travelling miles to be there, and overall struck a charming chord with the serious Toronto crowd and got people moving despite being a Tuesday evening gig.
How Come I'm Dead? is manic, full of frenzied guitars, cute melodies, gentle asides that calm things down nicely (piano downpours and gales of horns), and, for the most part, songs that inspire some form of movement or air punching: an undercurrent of anxiety swells with each track, as if menace and danger are just around the corner, stretching their limbs, lying in wait. As for the band, the year has been full of tours, (Pop Montreal, Halifax Pop Explosion) the release of a new album, the addition of a new bandmate, a new music video, and hopefully some rest down the road. We had a chance to ask Chris some questions about the new lineup, the new album, and some other related fanaticisms.
How has the band dynamic changed since Catherine Hiltz joined as the new bassist and trumpeter?
She's made the band fun again! We were in a bad place for a while — the dynamic wasn't there anymore and it was coming across at shows — but since Catherine's joined everything seems to be going fine again. She can also play many different instruments, so it helps to have someone with that knowledge in the band.
What city would you like to play next?
Tokyo! I've never played in Japan, or been there for that matter. I hear it's really different playing shows over there.
What has been your favorite song to cover live, and which band would you like to have cover one of yours?
We used to do a cover Louis Armstrong's "I Want to Be Like You" from The Jungle Book. That was always a fun one to play. We had to stop because I think people liked it more than our original songs. If the cover upstages the originals, it's gotta go.
What is the band's writing and composing process like?
Most of the time, I'll come into a jam with something that I'm working on, we'll all jam on it, everyone will project their own ideas onto the skeleton of the song, [and] then, voila! We've created something that not one of us individually would have come up on our own.
What was your worst gig? How about your best?
Worst ever: In Peterborough at the Montreal House. Nobody was there, and a fight almost broke out! Between the members of Hot Panda… Best ever: Glasgow at King Tuts. We were opening for the Von Bondies. The crowds in Scotland were crazy and we played an amazing set. I think it was the one show on that tour that we stole from the Von Bondies.
What sort of headphones do you own?
I have very big ear muff kind of headphones. I just can't listen to things on tiny iPod ones.
How many instruments does the band play?
Guitar, bass, drums, piano-like instruments, trumpet, accordion, harmonica, mandolin, cello…probably more.
Who is your favourite recording artist from the last decade?
It's pretty hard to top the 2000 to 2010 Flaming Lips.