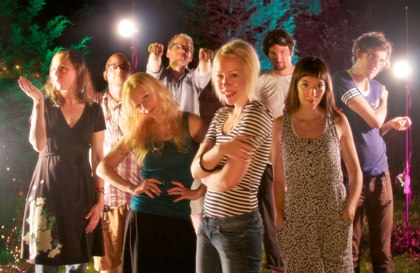 "Our boys are great travelers," says Cloud Cult cellist Sarah Young. Though referring to her two children, she could easily be describing the male contingent of her band. Young spent much of the past six years touring — with family in tow. While family is an important concept in the Cloud Cult camp, it's also a theme explored on Cloud Cult's new album Light Chasers.
Young is the prototypical Midwesterner: friendly, warm, and courteous. She sounds like she speaks every word while smiling. It's this demeanor that surely helped her and her band persevere.
Since vocalist/guitarist Craig Minowa began Cloud Cult in 1995, the band generated as much attention for its music as for its politics and fiercely independent nature. Minowa and wife Connie founded non-profit organization Earthology, focusing on their compassion for environmental issues. It became the centrifugal force for all Cloud Cult operations: record label, merchandise, booking, publicity, recording studio (solar powered), as well as an organic farm. Nearly every aspect of Cloud Cult hinges on eco concerns: the band toured in a biodiesel van covered in solar panels and planted over a thousand trees and plants to offset its carbon footprint. Clearly, Cloud Cult is a band that walks the talk.
Young praises Minowa: "Personally, I think Craig is a genius. He is amazing with music and words." Evidence of Minowa's gifts are heard throughout the band's newest full-length. Light Chasers is a dizzyingly dynamic album, harkening to the bold and fearless musical extravagances and rock operas of the '70s. The band cultivates the fertile fields of rock like the White Album and adds an almost theatrical element a la Quadrophenia.
Intrinsic to the band's rise has been its live show. It's hard to imagine the multi-layered Light Chasers being replicated in concert. Yet Young explains, "We do a lot of recreating exactly what you hear on the album." Each of the six touring musicians employs an arsenal of instruments: cellos, violins, French horns, trombones, trumpets, guitars, and percussion. Modern technology handles the rest.
"At least over half the set is going through Craig's computer to add some backing tracks — all of which he's written," Young explains. While the band sharpened its skills performing with the backing tracks, Young concedes some margin for potential error: "This tour is the most intense backing tracks that we've ever had. So the potential exists for electronic failure." She laughs and adds, "But we'll pull through."
Since the band commenced rigorous touring, Young always brought her family along.
"The first Cloud Cult tour six and a half years ago, I was pregnant," she says. "So I know no other way than touring pregnant or with children." Young and husband Adrian — Cloud Cult's manager — would travel separately in a minivan. Yet the upcoming tour will be Young's first without her family. Young explains how her eldest son finds school more appealing than shows: "He's used to touring. But he doesn't want to tour anymore. He is loving school. If I took him on tour he would be mad at me."
Young learned to perform a nimble balancing act between life on tour and life at home. She works as a pediatric nurse in a Minneapolis hospital when not on the road.
"During touring season, I have enough flexibility to be able to tour without putting my job at risk," Young explains. "And then during non-tour season, I usually have enough flexibility to pick up enough hours without putting my life at risk — with bills and mortgage and things like that."
Though acknowledging she will be "homesick on the road the whole time," Young looks forward to the upcoming tour and future of Cloud Cult. As for her plans while traveling without her family: "Two car naps and crocheting or knitting everyday. That is going to be my discipline on the road." For a band this committed, you wouldn't expect anything less.