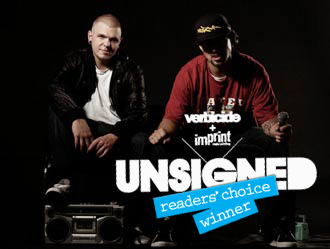 Introducing Philly Moves, winner of the 2010 Verbicide Unsigned contest Readers' Choice award!
Regale us with the legend of Philly Moves. How did you guys meet up and start putting out music?
We have been homies for 10-plus years and both shared a love for music — JD has been in bands and producing music for years, and Tragic got started in the writing game writing poetry that he thought at the time made him seem deep and intellectual. We came together musically around that time making hip-hop tracks that were mostly for jokes; we never did shows or anything back then.
After a year or two of getting together with other like minded cats and making some hilarious tracks that were at times unnecessarily gangsta and completely insulting, we separated and pursued life experience in other fields. We reconnected in 2007 and made one song that was a totally different look for us, as we both matured and drew on that life experience to make a song that had what was missing in our other music: honesty. In the fall of 2008 we connected for good and have been pumping out our unique brand of hip-hop on wax and on stage ever since.
Philly Moves seems like a really weird name for a rap duo from Ontario, Canada. Is your name meant to evoke some sort of Philly flow or are you simply name-checking ninjas, using Philly credibility to catapult you into the big time?
When we first started back in the day our name was The Dolla Billz, a name that was certainly not meant to be taken seriously. When we reconnected we were known by our separate names and "Tragic and Noogie" was born, as we were unsure of how the group was going to progress. Would we stick together or have our own separate projects and occasionally work together? When we decided that we had something good cooking here it was time to come up with one name.
After brainstorming for a while with minimal success we gave up and concentrated on putting out some more new music for our fans, and our "live session" videos were born with JD making a beat on the spot and me busting out a few verses on top of his new butter. The first session video was titled Philly Moves after a line in the track: "So think twice before I make you look silly dudes/cuz I got Allen Ivy when he play for Philly moves." We liked the ring "Philly Moves" had to it and stuck with it. Of course, any residual cred we get from including "Philly" in our name is strictly unintentional…

You won the audience vote in the Verbicide Unsigned contest. What was your strategy for getting the word out and getting people to vote? Did you tap into the college crowd?
We have a very solid networking game and an equally solid fan base online. Our local fan base is also very loyal and we are very blessed to be able to translate that support into success — it isnt always easy to see concrete results from such amazing fans at our level in the music biz! Our strategy is mostly just getting the word out on Facebook or in person at shows and counting on word of mouth for the rest. Again, our fans are very incredible and we are always blown away by what they do for us.
Philly Moves' signature sound feels like a hip-hop love letter to the 1990s, getting the job done with a combination of tight flows and soul samples. Has that always been the artistic goal or was there an unconscious stylistic evolution? Was there ever a more "street" incarnation of Philly Moves? Possibly a Compton Moves?
We have never really sat down and said, "Lets sound like the '90s". That being said, it is hard for us to deny that we are influenced heavily by artists from that period. Artistically we aren't trying to copy a sound or feel — we are simply trying to evoke what hip-hop meant in those days. Im not saying hip-hop these days is all wack because there are alot of dope cats doing things under the radar; unfortunately, the days when honest, organic hip-hop was in the mainstream are long dead. That is what we are trying to bring back: hip-hop that is a reflection of the artist's beliefs and experiences that has that true hip-hop feel, but also is catchy and positive enough to be enjoyed by the masses.
Our really old school stuff was alot more "street," you could say, as we were trying to copy what we were listening to at the time, but it was all for jokes back then. What you hear now is a truer image of who we are.

According to your track "Things That I Like," you like milkshakes, fast food, mean-mugging, casual drug use, cool chicks, your own teeth, and more. That's all well and good, but what are a few of the things that you've been hating on lately?
Not to sound like we are holier than thou, but we make a conscious effort to not hate on anyone or anything; we are really trying to push positivity and are hoping we get it back in spades. If people start hearing "Philly Moves hates on this or that" then it is a slippery slope from there and people start expecting this negative image, and soon your music follows suit. Don't get us wrong — we certainly don't vibe with everything and everyone, and when we do bring up things we dont like in our songwriting we keep it very broad. We try focusing on characteristics we dont like: fakeness, dishonesty, money-hungriness, etc. In other words, we keep names out our mouths and try our hardest to push what we do like.
What's the hardest thing about being a rap act from Canada?
The sheer size of the country is the biggest roadblock. It is very hard to be relevant in British Columbia when you're from Ontario. We recently completed a cross-country tour and the logistics were a nightmare. The distance between gigs, the fact that only bigger markets have a hip-hop scene, and the fact that it's hard to push shows in most markets if they are not on a weekend are all very frustrating to a touring act.
As an act at our level, it is very hard to make money on such a long tour but the contacts and fans we made definitely made the trip worth it. Canada as a whole definitely has a solid hip-hop fan base, but it is hard translating fans who like your music into a viable career in this country — they are just too spread out. The internet can be an invaluable tool; at times, [it] can also be your worst nightmare — with most fans these days growing up with free music at their disposal it is hard to convince them to buy your albums without them seeing you live. Then we come back to the difficulties of touring…
How do you represent Canada in your music?
Well we are polite and well-spoken. (laughter) We represent the "Canadian Sound," for sure; hip-hop heads around the world recognize Canada as a haven for the "golden age" sound of hip-hop, and as cliche as it is to say, we definitely have that sound.
When it comes to songwriting we lace our songs with references to Canada and released a three-part track called "Tour Guides, 1, 11 and 111" on our latest EP. These songs take the listener on a journey throughout Canada from coast to coast, describing historic sites and natural wonders a la "Chemical Calisthenics" or "Alphabet Aerobics" by Blackalicious. Even our album art reps our country — our latest EP uses the Canadian quarter as the foundation for the design, the album comes in a round tin with the caribou reppin' hard on the front.
Give me your best story from the road that doesn't involve alcohol.
We had a bunch of pretty rough shows on our coast to coast journey, which is to be expected, but on one particular night — not gonna point out a city — we were having a terrible time. We were tired and grouchy, the promoter was mad because we were late, and there was literally 10 people in the bar. This show was at the other end of the country and we were not expecting anyone to know who we were, so our mood was sombre, to say the least. We started doing our thing, and to be honest it was not our best performance — out of nowhere this dude comes right up to front of the stage and is literally screaming our lyrics back at us. His enthusiasm instantly energized us and we rocked the rest of the set and got the very small crowd bumpin'! It essentially made the whole tour worth it, this guy 5,000 miles from Ottawa knew every one of our lyrics and was even asking us about tracks we had done years before. One of the tracks on our new EP is named after him and describes the story in much doper detail.

Verbicide Unsigned is a contest that was created in support of independent artist. How do you embody the spirit of independent music?
We take a lot of pride in our independence as a musical act. Everything that we put out is done by us independently; songwriting, production, design work, booking and management, and our networking game. The message behind what we do is important to us and we feel like being in control of everything that comes from the Philly Moves camp is the best way to stick with our vision. It is definitely a battle without professional help; it seems like the business side takes up most of our time these days. With that in mind, we are hoping that eventually we will be in a position to secure help and still have control of what is being released with the Philly Moves stamp on it. For the time being though we are more than content to do all the heavy lifting ourselves!

What's next for Philly Moves? May I suggest a move to Philly?
We have a lot of big goals in focus, but for the short term we are working on a series of mixtapes to be released every month. Each mixtape is themed and sees us remixing famous songs in particular genres. The first was released on October 1st and features five pop songs by female artists "Philly Moves-ified." A new LP is in the works as well with a early 2011 release date.
We are constantly doing shows in and around our hometown and will be looking to tour the country again in the spring of 2011. Other than that, we are constantly trying to find new fans, communicating with other cats in the industry to make contacts, and just keeping it as real as possible. A move to Philly is not on the agenda as of right now, but the future can surprise you!