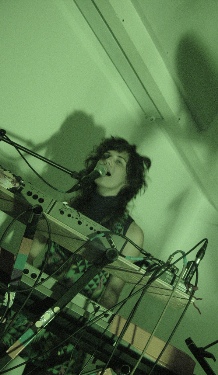 The closest one can get to spirituality through music in Olympia on an average day are generally through the numerous drum circles that congregate at The Evergreen State College, which is a little sad, seeing as they're all usually off-beat, playing different drums that don't mesh well together, and are excessively happy over nothing. When I heard that Deakin, one-fourth of Animal Collective, and Prince Rama were going to be playing together downtown at the Northern, the chance that I would be seeing music with a true spiritual connection was intriguing.
The first act was Jabon, an elusive demon from the 20 dimensions whose only purpose it seems was to tell jokes and make everyone dance. Smoke began pouring out from the podium situated in front of the stage, while foreboding white noise blared from the astral plane produced by the array of electronic boxes on top of the podium. After a good minute or so of the looped noise, a masked and hooded character wearing black sneakers casually walked out and stood behind the podium. What followed was a soundtrack for a land of malfunctioning machinery with Jabon acting as a channeler for electronic ghosts.
With his uncomfortable swaying and random posturing (perhaps he was also channeling the spirit of Hulk Hogan), Jabon's presence would have been memorable enough alone. Even better was that he is also a skilled electronic darkwave DJ. Throw in a touch of stand-up comedy for good measure and you have a one of a kind performance piece. Tonight, the comedy was the horrors of books on tape outtakes… from cassette, as Jabon so adamantly pointed out. Stars such as Kirk Douglas and David Dukes (not the former KKK leader, the other one) messing up lines and having coughing fits while interspersed with laugh tracks were enough to make even the most jaded hipster crack a smile.
Which really is no surprise given Scott Colburn's credentials. When he's not creating electronic music from another dimension, Colburn moonlights as a renowned engineer/producer. His work with the Sun City Girls and Mudhoney attracted the attention of Animal Collective, who tracked him down to engineer their sixth and seventh albums, Feels and Strawberry Jam.
The next band was Prince Rama. Spawned from the largest Hare Krishna community in the United States, Prince Rama's tribal drumming and chanted mantras were like a funhouse mirror reflection of the gatherings the members were raised around. The music was contorted and warped into what another audience member affectionately described as "pornography music." It sounded more like the sounds of total enlightenment — a message from the gods. If you've never listened to Prince Rama, try to imagine the most intense hallucinogenic drug experience a human has ever had and set it to music; you'll be somewhere in the same realm.
The crowd at the Northern has a notorious reputation for impersonating the dead, but Prince Rama's electrified blissed-out beats turned the venue from an art gallery into a tribal ceremony. The group's bedazzled and painted instruments acted either as offerings or mediums through which the gods communicated. While the intoxicating drumming and elaborate electronics were beyond sublime, Taraka Larson's voice stole the show. As she led the crowd in chanted prayers from the Sanskrit, her voice somehow was able to flow effortlessly from the lowest depths to the highest peaks.
After a long, sweaty performance from Prince Rama, Taraka and Nimai Larson remained on stage to accompany Deakin. As one-fourth of Animal Collective, Deakin is beginning to come into his own as a solo performer. Deakin's solo work is a little more challenging to get into than the solo material other members of Animal Collective have released, being less poppy, slower and more low-key, while still having the underlying intensity of an earthquake under the surface. At Deakin's best his sound was akin to Spacemen 3's divine sonic assault, although every song was similar enough to blend together.
As I walked out of the Northern, I left the show with dazed feelings of enlightenment; an empowering sense that I had listened to the messengers of the gods from their dazzling hallucinatory display, tribal beats, and Sanskrit prayers. These channelers provided a passageway to nirvana through their music, proving that music can have incredible spiritual connections.