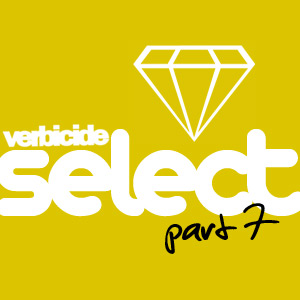 As the summer days die away, Verbicide Select Mixtape roars back to life with a seventh volume, now available for free download.
We've got classic world music of the political maverick and Afrobeat pioneer Fela Kuti. We've got the latest single from the post-Sleater-Kinney project of Corin Tucker. We're giving you hip-hop from Quazedelic and Snoop Dogg, Shad, and Lazerbeak. New music from Glasgow's famed The Vaselines. Holy shit, there's even more, but I don't feel like listing it all. I mean, if you don't feel like I've already given you enough reasons to click the link and get this onto your MP3 player, then nothing I could possibly say is going to matter. It's like you don't even care. Like you've given up on life. Artax, please, you're letting the sadness of the swamps get to you.  Stupid horse! You've gotta download this mixtape or you'll die!
Click (control click for pc) to download!
[wpdm_file id=6]
1. The Corin Tucker Band
"Doubt"
From the album 1,000 Years
Courtesy of Kill Rock Stars
www.killrockstars.com
2. Quazedelic (featuring Snoop Dogg)
"Hold On"
From the album Stan Sly: AnuthaWorld
Courtesy of SomeOthaShip Connect
www.facebook.com/SomeOthaShip
3. Bonjay
"Stumble"
From the EP Broughtupsy
Courtesy of Bonjay and Girlie Action
www.bonjay.net
4. Someone Still Loves You Boris Yeltsin
"Sink/Let It Sway"
From the album Let It Sway
Courtesy of Polyvinyl Record Co.
www.polyvinylrecords.com
5. Common Grackle (featuring Ceschi Ramos)
"The Great Depression"
From the album The Great Depression
Courtesy of  Fake Four, Inc.
www.fakefourinc.com
6. Lazerbeak
"Salt and Sea"
From the album Legend Recognize Legend
Courtesy of Doomtree
www.doomtree.net
7. No Age
"Glitter"
From the album Everything In Between
Courtesy of Sub Pop Records
www.subpop.com
8. Shad
"Yaa I Get It (Oddisee remix)"
From the album TSOL
Courtesy of Black Box Music
www.weareblackbox.com
9. The Vaselines
"I Hate The '80s"
From the album Sex With An X
Courtesy of Sub Pop Records
www.subpop.com
10. Here We Go Magic
"Deadbeat Summer (Neon Indian cover)"
From the album Psychic Chasms
Courtesy of Lefse Records
www.lefserecords.com
11. Fela Kuti
"Zombie"
From the album Zombie
Courtesy of Knitting Factory Records
www.knittingfactory.com
Bonus Track!
12. The Suzan
Take It or Leave It (Strokes cover)
Courtesy of Fools Gold/Downtown Records
www.foolsgoldrecs.com