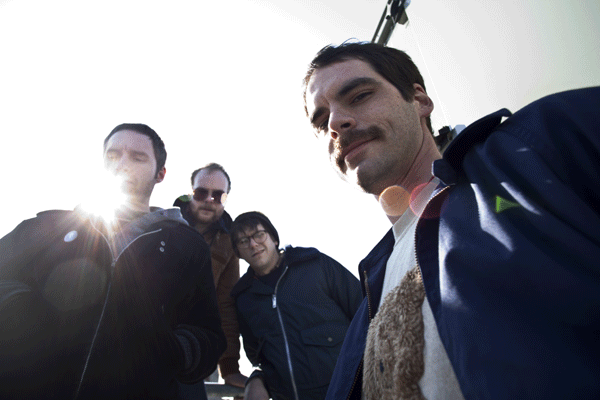 Last year, Jail was an unheard of band from the deepest rock underground in Milwaukee when they released There's No Sky (Oh My My) and left on tour with Italy's Mojomatics. One of the shows they played on that tour was also my band's last show. I'd never heard of either of the bands and only expected them both to be decent, if unspectacular. The show took place in the back room of an almost completely empty thrift store, and because of the low turnout the store decided not to charge anyone at the door. That's when I first encountered Vinnie Kircher.
Jail's frontman — a "somewhat sneaky, rarely sleazy" guy, as their artist page on Sub Pop says — approached me and asked us to play last because no one really knew the two touring bands. That brief encounter gave a strong insight into Jail's refreshingly humble, laid-back perspective that I would soon find out was also in the core of their music. Jail took the makeshift stage first and immediately blew away everyone lucky enough to be in that room with their jangly and familiar yet wholly unique psych-pop, which had our small crowd of 11 or so all dancing like mad.
One year later and after many years of keeping a low profile, Jail is now Jaill, and they have a two-album deal on Sub Pop. That's How We Burn is their first Sub Pop release, and with its dry, witty lyrics, surfy guitars that hint at something foreboding under the surface, and Kircher's extraordinary vocal delivery, the album works perfectly and establishes Jaill as the band to watch. Between touring to support the album, Kircher took some time to answer my questions.

When I first heard of your band the name was "Jail." Now there's an extra "l." What prompted that change?
There was a German band in the '70s by the same name so we had to change ours — we really like "Ls" so we added another one to the end.
Has getting signed to Sub Pop had an effect on your creative process? Is there any pressure to make your album sound a certain way?
There really wasn't any extra pressure at all. We had the songs ready and were going to record it with or without a record deal. We put pressure on ourselves to make something we are proud of, and Sub Pop had no intention of fucking with that mindset.

In other sources you've said that Jaill has been around for eight years, flying under the radar. What's it like to suddenly gain so much attention after signing with Sub Pop?
It's really exciting to get some attention after getting none for so long. I'm pretty sure the years of not being appreciated has grounded us in humility, but it's still fun to say a few asshole things once in a while — because variety is the spice of life.
What was the process of getting signed like?
Months of not knowing if it was gonna happen, [and] not telling anyone it might happen in fear of jinxing it or getting responses like, "Yeah fucking right." [Sub Pop] emailed us that it was a go and I still doubted it for a minute…then we put on our serious-about-music caps and got to work.
When you leave on the West Coast tour with The Hold Steady are you riding together, or will they be getting a fancy tour bus and leave you to fend for yourselves?
They have a gorgeous bus and roadies and drivers. We have our van with both a CD and tape player. We fend okay.
How did the tour with the Mojomatics go last year?
Every day was both awesome and terrible. We had seven people crammed in said van and had some brutal drives to play to almost empty crowds, but those guys were a lot of fun and it was easy for us to turn a negative situation into a big laugh. The people who did show up were awesome and kind and we got put up everywhere we went which is remarkable… Opening your house to seven strangers takes cojones.

When on the road how do you entertain yourselves?
We listen to music, cherish every bowl we smoke, and fill out tons of madlibs.
Your lyrics are really strong and at times surreal. Do you have a lot of literary influences?
Thanks, [but] not really. Wallace Stevens' The Emperor of Ice Cream is a strong book of poems.
What's your favorite place to play at?
Anywhere in Austin, Texas. Everyone there is super-duper cool and kind. Love it there.
What's the worst show you've ever played?
Trying to narrow that down is really tough. Probably Oakland last year at a warehouse. Slept there on the stage and woke up soaked because I didn't realize there was a hole in the roof. Then I went to wash my face and the sink was filled with maggots.
What would you say some of the differences are between That's How We Burn and There's No Sky (Oh My My)?
The setting of many of the new songs is from a somewhat 'sunny' perspective even though it may be a rough or down subject. There's No Sky had rockin' songs but was very much pissed off lyrically.

If you had to be involved in some sort of sketchy business (arms trafficking, drug running, bank robbery, etc.), what would it be and why?
Probably growing weed for the smells.
Do you have any advice for fans or soon-to-be fans?
Just keep twirling and you'll blow wind.