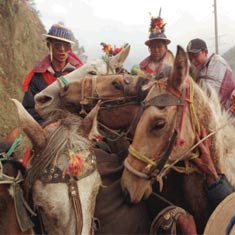 An exercise in genre-bending psychedelic madness, The Harvey Girls' latest release, I've Been Watching A Lot of Horror Movies Lately, is the quintessential day-tripper's soundtrack.  Filled with layers upon layers of miscellaneous instruments, African-inspired beats, and field recordings from the great outdoors of Portland, Oregon, The Harvey Girls cross the lines of shoe-gazing folk-rock, indie-pop, and psychedelica all in one fell swoop.
Recorded in the home of husband and wife duo Melissa Rodenbeek and Hiram Lucke, "I've Been Watching" features an array of innovative recording techniques throughout the record, most notably heard on instrumental tracks such as "Smile Like Gwynplaine" and "Puss."  However, the album's stand out track, "A Letter to the Bees," is quite possibly the simplest, minus an analog synth that cuts straight through the heart of this indie-pop ballad.  "Monster" follows suit with an infectious dance-pop beat that even the most awkward wallflower can get down to.
Quite simply, I've Been Watching tastefully layers and blends elements from many walks of the musical spectrum into a beautifully compact aural experience.  As soon as you hear the last track's faint sound of hoofs walking off into the distance, you'll find yourself wanting more.
(Circle Into Square, no address provided)